February 8, 2012
Across the country, recovering addicts are shaking off the stigma of addiction and taking a stand for recovery rights
Image courtesy: Architect of the Capitol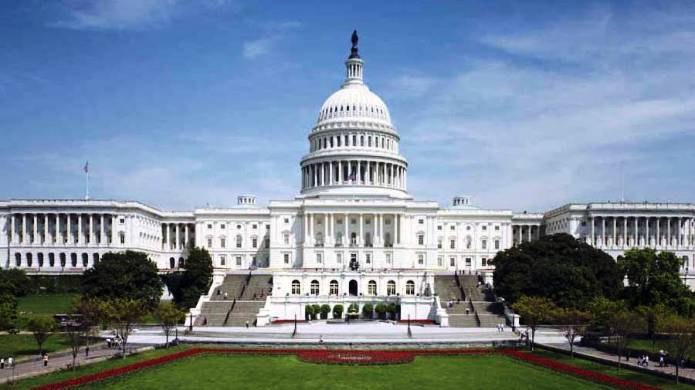 By Steve Diogo
Shuttered by stigma and enveloped in anonymity, recovering addicts and alcoholics have long been a massive but silent population. 
Today, a vast network of private and public advocacy and support groups is hard at work to organize this population into an effective movement capable of advocating and agitating to ensure effective, affordable treatment alternatives, protect and expand the rights of recovering people, remove the stigma of recovery and help stem the tide of addiction and its associated social problems.
Organizations such as Community Anti-Drug Coalitions of America (CADCA) and Faces and Voices of Recovery (FAVOR) work at the national level to provide support to community coalitions that span the spectrum from prevention to recovery issues, training and organizing community-based action groups that lobby for change in their local communities. The federal Office of National Drug Control Policy (ONDCP) primarily focuses on prevention.
The U.S. Substance Abuse and Mental Health Services Administration (SAMHSA) provides coalition services across the entire spectrum of prevention to recovery, efforts that culminate in the organization's annual National Recovery Month campaign in September.
FAVOR is solely focused on the recovery population, on groups that Executive Director Pat Taylor calls "owned and operated by the recovery community.
"What we're talking about is people coming together and getting organized as recovery community organizations," Taylor says, "then forming partnerships in existing coalitions or helping to start a new coalition, usually centered on a specific issue."
FAVOR is a national recovery advocacy organization focused on "mobilizing people in recovery from addiction to alcohol and other drugs, families, friends and allies in campaigns to end discrimination and make recovery a reality for more Americans."
Allies can be anyone interested in recovery: mental health organizations, recovery facilities and halfway houses, legislative and judicial groups, public officials, schools, healthcare providers, law enforcement. The list of allies alone shows how wide addiction's impact can be, as well as the positive impact recovery can have on a community.
"When people recover, they don't only improve their own lives," says Ivette A. Torres, SAMHSA's associate director for consumer affairs, "they also give back to their families and their communities. They become productive citizens."
On the road to becoming productive citizens, however, many in recovery face obstacles beyond getting sober. Taylor lists a litany of issues FAVOR coalitions have addressed: removing the ban on federal financial aid to students with drug convictions, working with legislators on the Paul Wellstone and Pete Domenici Mental Health and Addiction Equity Act to end insurance discrimination and to ensure that the Affordable Care Act includes adequate coverage for recovery services and the funding streams to support them.
Coalition groups across the country are advocating for coverage of services that have never been covered before, such as recovery coaches and recovery community centers. Although the strategies and specific objectives of these groups may differ, the underlying goal is the same: to empower people in recovery to stand up and be counted and to have their voices be heard. At the heart of FAVOR's philosophy is the belief that stories have power, and the more those stories are heard, the more momentum the recovery movement gains. 
To that end, FAVOR invites recovering addicts of all stripes to share their stories on its website and on its Facebook page. A typical Facebook submission by follower Ricky Parker: "Life is good now, I'm working helping others. I'm confident I can deal with whatever is ahead with my emotions, not drug-induced emotions. I'm grateful for all those that were patient, tolerant and loved me until I could love myself."
All social movements begin with baby steps. Like the nascent gay rights movement in the 1970s and early 1980s, the recovery population is just beginning to stand up and say, "We're here."
"The climate is changing," Taylor says. "But the first step is breaking the stigma, speaking up and defining ourselves as a community."
To that end, SAMHSA's National Recovery Month serves as a flashpoint to bring people out of the shadows, into the streets and on to the web. Each September, thousands of local events—from walks and rallies to legislative forums and "Twitter events"—are sponsored under the umbrella of National Recovery Month. The campaign began more than 20 years ago as a celebration of the work of recovery professionals. In 1997, the focus switched to recovering individuals, and the campaign took off, Torres says.
Torres, who oversees the campaign, says SAMHSA's primary role is developing themes and providing materials and support for local groups that take part. It's a year-round effort that involves educational programs; designing and distributing materials; updating the
website
with event listings, videos and blogs; liaising with local groups; even producing television and radio shows that appear on more than 2,300 stations across the country.
Torres says she is thrilled with the campaign's growth. "When you have that many people doing events, you know you're having an impact," she says. "People are supporting the movement to speak out. Before this, you never had people in recovery coming forward and speaking out about their experiences.
They would not admit they were in recovery because of the discriminatory practices in our society. It was a taboo subject." 
Although a strong national resource base exists through groups such as FAVOR, CADCA, SAMHSA, ONDCP and others, the heart of the struggle occurs at the community level, and much of these groups' resources are focused on community education, grass-roots action and organizing. Throughout America, community groups are addressing the specific issues affecting their communities. 
In Kentucky, People Advocating Recovery (peopleadvocatingrecovery.org) is fighting to restore voting rights for people convicted of drug crimes. In Alabama, the
Addiction Coalition
is developing mentoring programs in Birmingham schools to help keep kids away from drugs and alcohol. In New York, recovery coalitions helped persuade Gov. Andrew Cuomo to sign a law designed to reduce overdose deaths by encouraging people to call 911 if they witnessed a drug overdose, without fear of being arrested for drug possession.
Torres, Taylor and other coalition directors encourage people who wish to get involved to start their search on the web. Each of the group's websites contains extensive links that allow visitors to connect with local coalition groups and access the tools needed to take action. FAVOR's Online Advocacy Center provides direct links that provide simple ways to contact lawmakers and advocate on specific issues.
Taylor says the movement has a place for every recovering addict, whatever his specific interests and goals may be. The effect, she says, can go well beyond political action. It can actually help strengthen recovery.
"Look for other people in your community where there are meetings going on, educate yourself and get involved in policy issues that you care about," Taylor says. "Being a citizen and being active can be an important part of recovery. Speak out. Network. Organize."
How to get involved
The web provides many materials and tools to empower those in recovery to get involved in local coalitions or start a new coalition. Here are the best places to start.
Community Anti-Drug Coalitions of America (CADCA)
National membership organization of more than 5,000 anti-drug coalitions, each working to make their community safe, healthy, and drug-free.
National Recovery Month
Umbrella campaign administered by the Substance Abuse and Mental Health Services Administration (SAMHSA) focused on supporting and providing materials for local community recovery advocacy events.
Faces and Voices of Recovery (FAVOR)
National recovery advocacy organization focused on "mobilizing people in recovery from addiction to alcohol and other drugs, families, friends and allies in campaigns to end discrimination and make recovery a reality for more Americans."
HealthCareAndYou.org
Interactive resources to help healthcare consumers understand how the Affordable Care Act affects them.
A&E Recovery Project
Campaign sponsored by A&E Television to generate awareness that addiction is a treatable disease and recovery is possible. Campaign hosts several events and Town Hall Meetings, which are archived on the site.