January 13, 2012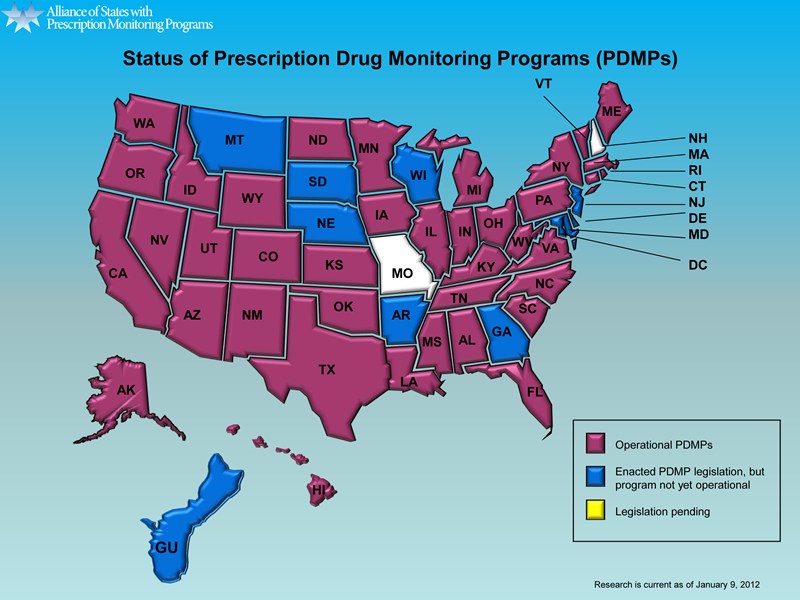 A new prescription tracking program in the state of Washington has shown that Hydrocodone/Acetaminophen, the generic form of Vicodin, is the most prescribed drug in the state. According to numbers released by the state department of health, Vicodin accounted for more than 800,000 prescriptions and more than 44 million pills over the period of October to December last year (with a few retrospective reports).
Status of prescription drug monitoring programs across the country (Click image to enlarge)
The Washington State Prescription Drug Monitoring Program makes it necessary for practitioners and pharmacists who dispense Schedule II, III, IV, and V controlled substances to create accounts that can track prescription information for individual patients. Health care providers can then use the database to identify dangerous drug interactions, watch for misuse, and recognize under-managed pain or the need for substance abuse treatment.
Talking to
RenewEveryDay.com
, program director Chris Baumgartner said among the program's primary aims was to bring down prescription drug abuse and overdose deaths. Washington ranks 15th in the number of drug overdose-related deaths according to latest data released by the Centers for Disease Control and Prevention.  
Washington is the 39th state to have an operational PDMP that can receive and distribute controlled substance prescription information to authorized users.
The National Alliance for Model State Drug Laws
website
provides links to each state's statutes and regulations regarding PDMPs.