May 4, 2020
Los Angeles, CA – November 7 2017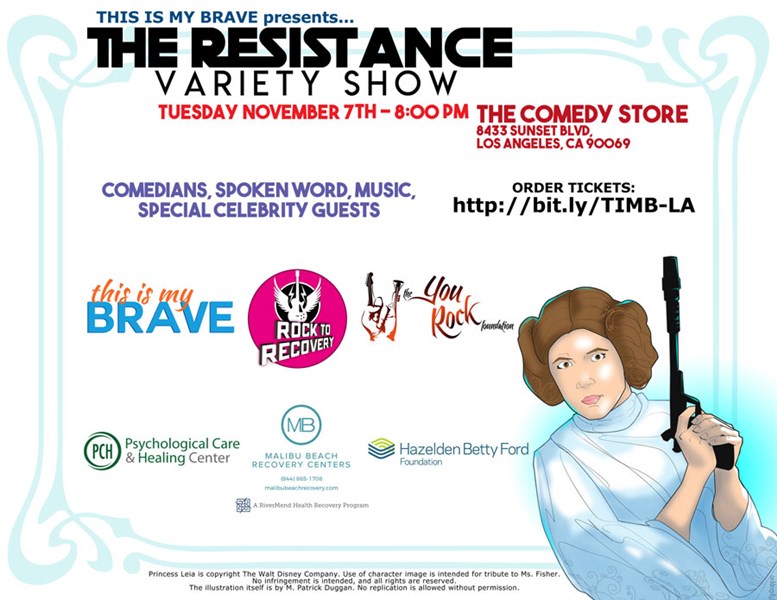 1 in 5 Americans has a mental illness and 56% DON'T get help.  Why?  Because of the stigma attached to having a mental illness or addiction.  We also have a suicide epidemic in our country (Chester Bennington and Chris Cornell.)  Now more than ever we need to be raising awareness for mental health AND addiction, together.  
This is My Brave is the organization doing just that.  Their mission is to end the stigma associated with mental health and addiction.  They do this by putting on successful shows around the country where those suffering from mental disorders and addiction can bravely tell their story.
This is My Brave has held successful, sold out shows in New York City, Los Angeles (2015 & January 2017), Boston, Harrisburg, Washington DC (2014, 2015, 2016), Iowa City (2015 & 2016), and Chicagoland (2016, 2017.)  This fall the show will make its way to four cities across the United States (Boston, Los Angeles, Wheeling WV and Lewiston Maine).  The Los Angeles show will be its first celebrity driven variety show!
Featured performers include:
Ed Crasnick (Emmy winning writer, HBO's Crashing, Curb Your Enthusiasm, The Sopranos)
Melanie Vesey (Actress/comedian – Man On The Moon, The Comedy Store)
Ant (Comedian – Last Comic Standing, The Tonight Show, Celebrity Fit Club)
Jerry Quickley (Poet/Writer- Def Poetry Jam, KPFK Radio Show Host, The Philip Glass Center)
Lisa Sundstedt (Comedian – Founder of Pretty Funny Women, Chelsea Lately)
Peter DiStefano (Lead guitarist for Porno for Pyros – With an ALL STAR band will do a tribute to the late Chester Bennington and Chris Cornell)
Dr. Cali Estes (Addiction specialist and coach)
Plus two HUGE – A-list Celebrity comedians.
Your host and producer is Mara Shapshay (comedian/writer/mental health advocate who writes for LA Magazine, The Huffington Post and Glamour Magazine and performs regularly at The Comedy Store).  Dr. Jennifer Palladino from the You Rock Foundation (a mental health organization that has rock stars speak out about their mental illness and addiction for suicide prevention) is Mara's co-producer.
The show is dedicated to Mara's late friend and housemate, Carrie Fisher.  Mara wrote an article about their relationship for LA Magazine that went viral, resulting in her continuing on Carrie's work as a mental health advocate.  In the name of Carrie Fisher, let's end the stigma against mental health and addiction, now!
Our 2017 sponsors include: Alkermes, Talkspace and Lundbeck.  
Facebook, Twitter, Instagram, YouTube: @thisismybrave