May 4, 2020
Alcoholics Anonymous meetings have moved from musty church basements to laptop screens in quarantine. Do they still work?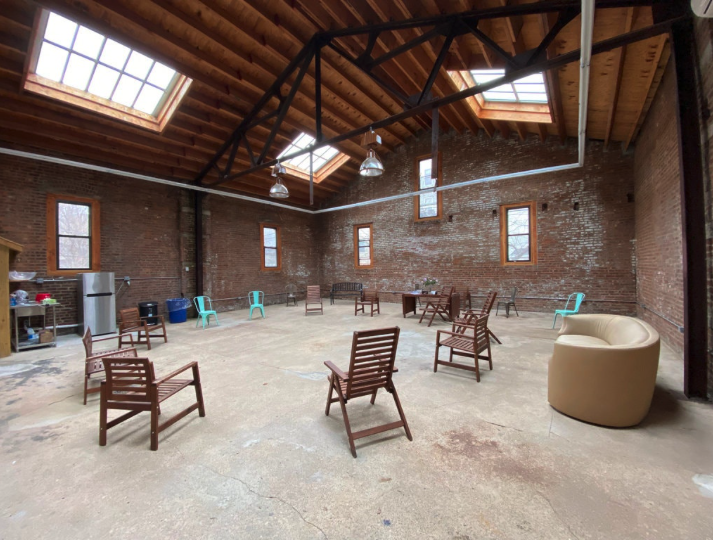 By Virginia Heffernan
In a Zoom meeting of Alcoholics Anonymous last week, a waifish figure with rheumy eyes assumed the center of the computer screen.
"I have several hours clean," the person said, grinning and lurching screen left. "I need help."
This was my first online experience of the fellowship that has been a cornerstone of my life since 2011. Like many A.A. members, I found I needed the meetings more than ever when the coronavirus quarantine canceled the in-person ones.
But internet A.A., at first glance, was uncanny. I caught my breath to see someone so addled, probably still drunk or high, make this disclosure to a crowd of internet strangers who couldn't, not really, look one another in the eye. In my experience, A.A. is about bodies in space — hugs, pats on backs, a tissue when you need it.
"I just need help," said the troubled person on my laptop.
At that, the small streaming videos of members across the top of the Zoom interface burst into applause. It's our habit in A.A. to heap praise on anyone courageous enough to make a start. Of course, the applause was silent, since we were all streaming the meeting and we were all on mute.
But it was a relief to see the familiar ceremony, right here, in the corner of the internet now staked out for sober alcoholics — and anyone, in any plague bunker, with what we call a "desire to stop drinking."
A quarantine is indeed a trying time. Where "people who can drink normally" — A.A. lingo for nonalcoholics — are stocking up on liquor, A.A. members, and there are some 2.1 million of us, are hellbent on keeping the meetings going.
Though at least one New York City meeting stayed open a few days after the lockdown, its chairs spaced six feet apart, my regular ones now convene on Zoom, the same videoconferencing software many schools use.
In the best of times, many A.A. members suffer from what traditionalists call "RID," for "restlessness, irritability and discontent," and we're now confessing to every manner of itch. Some want to drink. Some suddenly despise their roommates. Some are eating Lucky Charms out of the box and wondering whether, with a knack remembered from druggie days, they might snort the marshmallow dust.
In short order we have grown used to disclosing our intimate secrets into our laptop cameras, like a bunch of extremely earnest and fully dressed camgirls. It has been weird.
Eight and a half years ago, I attended my first in-person meeting, in the undercroft of a Unitarian Church in Brooklyn. I overdressed. It's common at the start to try to perfume away desperation; later I learned no one is fooled. A.A. members, as their minds and lives clear up, are instructed to wear their sobriety "like a loose garment," and on Zoom we're in state-of-the-art loose.
Still, knowing I'm on the internet discussing the most shameful part of my life, and changing my profile hastily to delete my last name, makes me freshly nervous about how candid I can be in this setting.
But I keep going, and the online meetings are packed. In one Zoom I attended last week, a woman with a fake tropical beach background surveyed the images of the 50-plus people who'd showed up. She talked about cultivating acceptance of the pandemic, not "future-tripping," and instead taking the "next right action."
"A.A. is like a freaking cockroach," she told the virtual assembly. "Like, you can't kill us." There was a pause. "I mean 'cockroach' in a good way."
I was in New York City on Sept. 11, 2001, and had planned a bender almost before the Twin Towers hit the ground. Under my sink, I kept a giant shoe box — it once held knee-high boots — filled with benzos and opiates. I took a handful to steady me for a run to the wine shop.
While others were giving their blood, I studiously adulterated mine with enough substances to cost me any trace of good judgment. What if someone mistook me for a functioning human with an idea about Al Qaeda or, worse, asked me to help?
Active alcoholics tend to find ordinary life events intolerable: an empty ice tray, a mediocre taco. If you know your solution (a drink), you tend to retro-engineer your problem (anything) to tee that solution up. It's a bad day, a good day, a Tuesday: drink.
When I was active, especially at the end, I tended to give myself no choice but to pour another tumbler of wine by imagining that alcohol was the only way to endure life on earth. So when something is truly intolerable, like a global pandemic, active alcoholics know just what to do.
Today my 9/11-caliber anxiety sends me to Zoom. Meetings that used to gather once a week offline now meet twice a day. Most of the time, we listen to speakers tell their stories — how the drinking started, how bad it got, what happened to bring them to their knees, and what their lives are like now. Barring a few jokes about the tech, these presentations are fluent, wry and moving, similar to the ones you'd hear in a traditional meeting.
Many people who speak in meetings say they're overwhelmed with relief to find these online gatherings, which are indeed coherent and powerful.
"Part of me wants to shut down, to make the world as small as my bed," said someone from a placeless quarantine the other day. "But in sobriety I find I can be of service to my mother — actually call, ask her about what interests her, make sure she's OK."
The quarantine in New York is only three weeks old, and I must have attended a dozen meetings, although I've shared only once. Was my diffidence because I missed the real-life meeting? The folding chairs, the musty smell, the corny "Easy Does It" placards, the hand-holding, the reliably status-leveling quality of the basements where I got sober?
All the iconic A.A. machinery reminds me of my bottom — when things were so bad, and my humiliation so high, that I received what some call "the gift of desperation." The memory of that gift, of how bad it once was and how, to my daily astonishment, good it is now, is what I get from the global network of rudimentary 3-D meeting spaces known as "the rooms."
"I'm just having trouble, during this virus, with all the change," I said when I shared.
On Zoom, an icon appeared: another "hand" was raised, and the chair of the meeting unmuted someone, who displaced me in the center of the screen.
"I heard that alcoholics fear two things: Change. And the way things are right now. The trick is accepting both."
The muted videos across the top of my screen laughed. Soon after, all of us, freshly unmuted, recited a hurdy-gurdy version of the Serenity Prayer in something far less than unison. Only then did I get a little teary.
I took the deepest breath of the day as if to take in — something. The sense of oneness. It occurred to me that all of us alcoholics — really, all humans with shortcomings, meaning everyone — were breathing in and out, our fragile mortal lungs, puffing away near our hearts, now so vulnerable to this novel virus that could stop them any minute.
A version of this article appears in print on April 5, 2020, Section MB, Page 4 of the New York edition with the headline: Reaching Out Online for Aid With Addiction.