May 4, 2018
By Clint Blatchford
Friday night, Live Talks Los Angeles hosted a talk between Russell Brand and Dr. Drew Pinsky. The event was a combination book signing for the release of Russell Brand's new book Recovery: Freedom from our Addictions and a q&a session.
Brand was running late from an earlier appearance on the Bill Maher Show so, Dr Drew took the reins and spent some time taking questions from the audience on the topics of emotional trauma and addiciton. Dr Drew's mastery on these topics is astounding. His ability to articulate how trauma and addiction coexist with eachother often complicating the patient's path to recovery in an understandable and relatable way was absolutely impressive.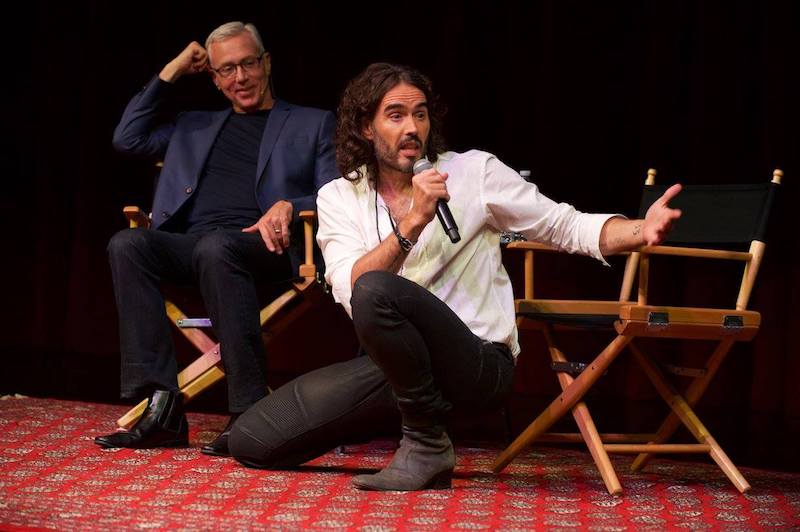 When Brand arrived it was in his typical, trademark flamboyant fashion. He had the audience in an uproar as he joked about the many attributes of his tight-fitting trousers and his always hungry ego-mania. Brand and Dr. Drew got right down to business taking questions from the audience. Questions were asked ranging from coping with the feeling of alienation to the difference between rehabilitation centers and 12-step groups.
The highlight of the evening was when the mother of an addict was asking for advice about her son who was seeking help for his addiction. Her son, of course, just happened to be sitting next to her. Brand became very serious and asked the son a series of questions. A summary of the first 3 steps in any 12-step program the way they are presented in Brand's new book were asked: Are you a bit fucked? Could you not be fucked? Are you, on your own, going to 'unfuck' yourself? When it became clear the son was earnestly seeking treatment for his addiction, an audience member offered to admit the son into her rehabilitation center right there on the spot. I was not the only audience member to become emotional after that exchange. A touching and very human moment for sure. There is no doubt that Brand means business when it comes to recovery.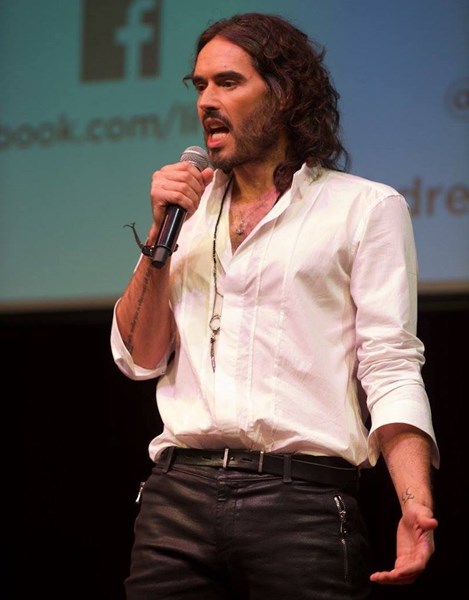 Dr Drew and Brand are both at the top of their game when they talk about addiction. Dr Drew, ever the scientist, kept his answers clinical and based in modern science. Brand, on the other hand, extolled the virtues of spirituality, 12-step programs and strong support networks. "Part monkey, part shaman" is how Brand described himself more than once during the course of the night's talk. Brand's exuberance for 12 step recovery, his ability to connect with people emotionally and spiritually, his self-deprecating humor about his own foibles and his inability to sit still for more than a minute at a time had me convinced that he was exactly those two things. The evening concluded with Brand signing copies of his new book and being his usual comically brash and charming self.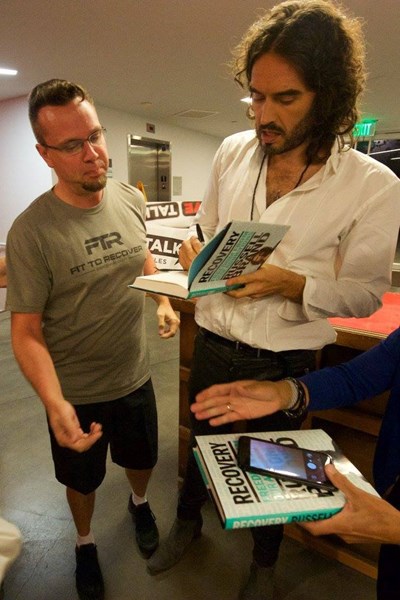 Brand's new book is available for purchase here. More information about Russell Brand can be found on his website. For more information about Dr. Drew, please visit his website. The talk was organized by the folks at Live Talks Los Angeles who have a wonderful archive of videos featuring artists, actors, authors other leaders of modern thought in live conversations on stage with their contemporaries.
Here is the video from the event.
Unless otherwise noted, all photos courtesy of Live Talks LA.
Related: