December 20, 2012
Posted Thursday, Dec. 20, 2012
Addiction requires personalized treatment to fit everyone's specific needs. Here's how to find it.
For people battling addiction issues—whether their own or a love one's—knowing where to turn for help can be an overwhelming challenge. That's why Renew Media is proud to announce the launch of the Renew Treatment Finder, a free online guide that empowers people facing addiction to find the answers they need and quickly locate and contact the treatment program that's right for their specific situation.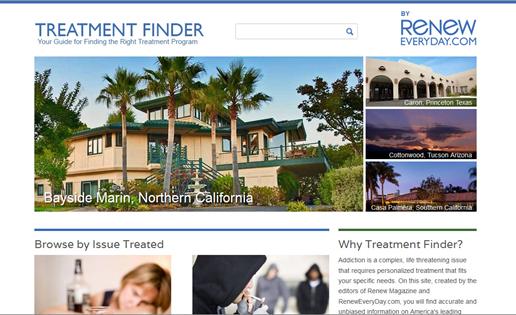 Located online at Treatment.RenewEveryDay.com, Renew Treatment Finder is an important addition to Renew Media's offering of services supporting the addiction and recovery community.
Since its launch in 2009, Renew Media has grown to become a beacon for the recovery community. Through RenewEveryDay.com, Renew's editors and contributors offer inspiring, educational, informative content for people in recovery and those searching for recovery.
"Treatment Finder is our next step in expanding the pool of guidance for those out there struggling," says Jim Moorhead, Renew Media President and Publisher. "It makes perfect sense to us. While Renew and RenewEveryDay.com are continual places for the recovery community to get meaningful support and find interesting, entertaining features, Treatment Finder is for those that are still out there suffering.
"People out there need information. They need to find it easily. They also need to find the right treatment that is catered to them. That's what Treatment Finder is for."
Addiction is a complex, life threatening issue that requires personalized treatment to fit everyone's specific needs. The editors of Renew and RenewEveryDay.com are proud to offer this guidance through Treatment Finder.
The site offers accurate and unbiased information on America's leading Addiction Recovery Programs, as well as information and tools to help those looking decide on the program that's right for them. Users can search for a treatment program based on the type of issue they are facing, geographic location, treatment modality and more.
Go to Treatment.RenewEveryDay.com today to browse through Renew's easy-to-navigate Treatment Finder to find help for yourself or a loved one.