November 30, 2012
Here's how to cope when someone you care about verges on relapse.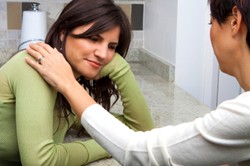 When approaching a loved one who you believe has relapsed in their recovery, the key is to NOT throw blame around. That's an easy way for the other person to completely shut down.
If you fear that relapse is rising, but your loved one is in denial about the issue, you need to approach the conversation gently and with love.
Cheryl Knepper, executive director of adult and family services for Caron Treatment Centers, and Sierra Tucson family therapist Mike Graziano recommend taking the following steps when addressing your relapse concerns with an addict:
Do not address the addict when they are active in their addiction.

Talk about what's going on with you, how you are feeling and what you are concerned about so that the addict understands the impact on your relationship.

Do your best to explain how the loved one's actions are impacting you and your family (e.g., absence from home, financial hardships), but do not attack.

Ask the addict to help you understand what he or she is feeling.

Offer to give rides to meetings and schedule appointments, anything to show your commitment to recovery.

Discuss the addict's personal triggers and create a plan to ward off potential crisis situations.

Set boundaries, define the consequences and always follow through.

And remember, you want to support recovery— not the addiction