January 18, 2013
Posted January 18, 2013
The legendary Longhorn running back will be keynote speaker at Austin Recovery spring event
Austin Recovery, largest nonprofit drug and alcohol treatment center in Texas, has announced that famed University of Texas Longhorn Running Back and Hall of Fame Houston Oiler, Earl Campbell, will be the keynote speaker at their speaker series luncheon Tuesday, March, 26, 2013.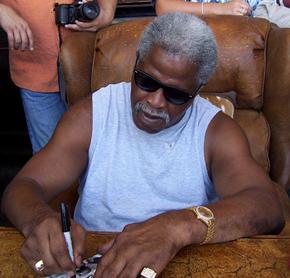 This year's event is co-chaired by Austin Recovery Board members Val Armstrong and Rachael Wyatt, with longtime Austin Recovery supporter and former board member Edith Royal as Honorary Chair. Proceeds from this year's luncheon will benefit Austin Recovery, allowing them to continue providing substance abuse care for those with little or no means to pay for treatment.
Earl Campbell, a Texas native, overcame a youth of poverty to win a Heisman Trophy and would go on to join the Houston Oilers as first all-around pick in the 1978 draft. Years of playing football took a toll on Campbell's body, and after multiple surgeries he found relief through prescription painkillers, which eventually took over his life. Three years ago, with the help and encouragement of his family, Campbell courageously took on the challenge of living drug- and alcohol-free.
 "Earl Campbell shows that anyone—even those with an iron will—can be susceptible to addiction," said Mel Taylor, president and CEO of Austin Recovery. "Addiction to prescription medications is among the fastest-growing trends today, but Campbell's experience offers a message of hope and strength that comes with recovery."
The fundraiser luncheon speaker series will take place at the Austin City Limits Live at The Moody Theater venue. Each gathering features a nationally acclaimed artist, entertainer, or speaker who shares his or her story of recovery. The goal of the series is to break the silence and stigma placed on addiction, while raising essential funds in support of Austin Recovery's commitment to provide high-quality services to all in need.
 Austin Recovery is now accepting corporate and organizational sponsorships and donations for the event, as well as sales of individual tables and seats for the luncheon program.
Visit www.austinrecovery.org/speakerseries or contact Ramona Cruz-Peters at [email protected] for more information on participating in this fundraising event, including table or seat purchase, sponsorship, or donation.