January 9, 2012
Get busy with a pick from one of these 10 tinkerings
By Aabha Rathee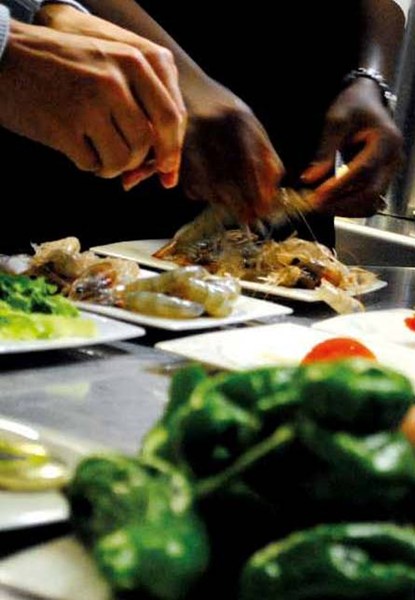 On days when the television feels like it's running on loop and the paperback is making you nod off, the plain bagel of hobbies just don't seem enticing enough. But don't let recovery's ups and downs leave you feeling flat and bored. Here's our selection of 10 tinkerings to occupy your idle hands.
1. Culture Cooking
Cooking doesn't have to be a bland rigor. Maybe you specialize in instant mac and cheese, or you're an expert at multiple-course Mediterranean cuisine—every league of cooking skills can do with some experimentation. Try the easily emulated lunch specials of Danish cuisine, with a buttered rye bread open sandwich topped with meat, vegetables and cheese. Or if you're confident enough in your skillet-handling skills, jump straight into the battle-inspired Japanese Jingisukan, or the Genghis Khan, so named apparently because it was a staple for Mongolian soldiers who used to cook the mutton in their metal helmets. If nothing else, it'll be something to show off the next time you host.
2. Grow Your Furniture
Pooktre is gardening with a twist. Literally. The art of making trees grow into structures for the purpose of either aesthetics or utility is fairly old, but Australian artists Peter Cook and Becky Northey gave it a modern turn and a new name. The more elaborate pieces of Cook and Northey—including tables, chairs and full-grown tree art forms—take multiple years to finish as they start with a sapling and gradually twist and turn the branches as the plant ages. But if you're not the patient type, try instant tree shaping instead. It will still take at least a year, but smaller items such as clothes hangers, small tools or waste paper bins can be ready to be used in one season through simple pruning and grafting. Oregon's Richard Reames conducts arborsculpture (his term) workshops and has written how-to books about the art. Buy Reames's tree sculpture guidebook or grafting tools at 
arborsmith.com/store.html
.
3. Good Old Workouts
Roll to zumba beats or splash around in a water-based fitness program, but make it regular. Joining the gym should ideally be a longterm commitment, but it's the best way to combine some fun "you" time with fitness. If you don't like going by yourself, join a community class, and you'll never be alone in your battle against boredom or bulge. Or find a family member or friend to bring along, and it'll be your chance for buddy bonding. Stir up your endorphins with this refreshing and useful way to spend free time. 
4. Dig Deep
Burrowing into your family history can be a consuming and satisfying task, if you're prepared to handle a lingering half-scandal. But helping others find hidden links in their family trees? For those who are on their ancestral trail and need to but can't travel, you can be the local source of research by being a volunteer genealogist. If you've never traced a family history before, you'll find out there is a method to the complexity of drawing up family trees and a world of software to help you organize the research and give shape to your findings. Or you can join a group where everyone helps everyone else. Ancestry.com has a section on collaboration to start you off at
community.ancestry.com
.
5. Stir Up the Waves
Wake up the kid in you by going old school: Who doesn't like to indulge in childhood hobbies once in a while? So get that old ham radio out of the attic, or buy a fancier one, and see how the technology has changed. You'll need a license, of course, and there is an examination to get one, so if you want to brush up on the techniques or start learning from scratch, find a club close to you. The American Radio Relay League also has classes available online. Visit
arrl.org/licensing-education-training
for more information.
6. Get Calm
If the prospect of an exercise workout doesn't have you stirred enough to start, maybe you need the slow movement of tai chi. Proper training is an essential element of this Chinese slow martial art, but it is now popular enough to ensure that a center isn't too far from you. The trademark graceful and calming moves of tai chi come not just with the benefit of learning some-thing new but also have an extra dose of internal health benefits, such as cardiovascular fitness and psychological therapy, depending on what you might want or need. "Tai chi plans are usually tailor-made for the individual," explains Stirling Levine of Chicago's Stirling Tai Chi Society. "But the best part about it is that anyone who can walk can do tai chi. It's not a competition but a way of life."
7. Speak Differently
Science is extremely vocal about the many benefits of language ability, repeatedly giving new reasons to keep those Spanish or French skills from college brushed up. But how about learning something completely new and somewhat unconventional? Try picking up basic Irish or Farsi or maybe even Swahili or Dari, and maybe you'll discover your inner linguist.
8. Make Stones Speak
Woodwork is so last century. Try a hands-on craft that requires some serious muscle: stone-carving. It takes patience and slightly specialized skill with tools, but imagine emerging from a pile of dust and stone chips with a beautiful new piece for the living room that you designed all by yourself. The Bay Area-based Pacific Art League is one of few organizations in the country to offer specialized stone-carving classes for hobbyists. "It's an art that will open your eyes in a new way to the three-dimensional form," says the League's Executive Director Richard Ambrose. "You need to be strong and persistent, but stone carving is an art form that makes you express yourself in completely new ways."
9. Photograph with a Good Eye
Miksang, a word from Tibetan language that stands for "good eye," is the newest concept in photography and brings together the practice of meditation and the skills of photography. The basic principle is to keep your head clear, free of thought processes as well as of emotion, and capture a photograph in a moment of pure clarity. The Miksang Institute of Contemplative Photography is an institution that holds classes in contemplative photography and teaches you everything from basic camera skills and lighting principles to visual exercises and focusing techniques. Go to
miksang.com
to find out more.
10. Dirtless Gardening
Who says you need to dig in the dirt for a taste of crisp, homegrown greens. Why not start a hydroponic garden in which plants are grown without soil using mineral-nutrient solutions in water? Almost any plant that grows in soil can be grown using hydroponics— in mineral-rich water or with expanded clay, rock wool, brick shards or other mediums. So choose the plants you'd like to see blooming in your house this winter, figure out how much area you'd want to invest in them, get a container, minerals and saplings, and start your indoor garden.