Uncategorized
May 27, 2020
This year's Super Bowl Halftime show featuring Jennifer Lopez and Shakira was provocative to say the least. I for one enjoyed it, especially the Shakira part. Some people felt it was so provocative it deserved a complaint to the FCC.
The FCC got about 1,500 complaints about the Halftime show. Here are a few "highlights."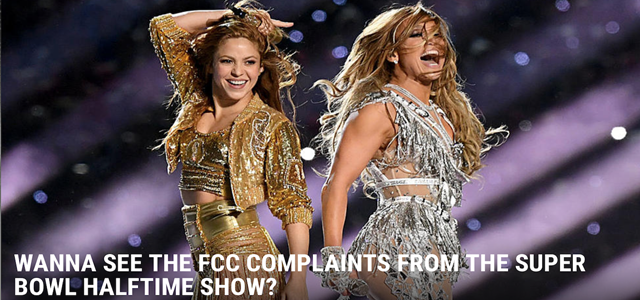 1.  "This year's show was extremely provocative in the female body moments and the simulated patting of J Lo's derrière is not for family television."
2.  "I was not prepared to explain to my 11-year-old daughter why Jennifer Lopez was dressed so scantily or why she kept grabbing her crotch.  My daughter was asking if she was feeling sick from having so much skin showing.
"Maybe next year the NFL can warn parents the show may not be appropriate for children so we can have them leave the room."
3.  "[It] was gross.  I am 50, and [I'm] ashamed I saw that evil crap on TV.  What about all the children that watched that?"
4.  (Careful) "[It] was beyond inappropriate.  Shakira laying on her side gyrating like sex, Lopez on a stripper pole, Lopez bending over to expose her butt crack, both performers grabbing their vaginas, Shakira grinding her butt against some tinfoil wearing man's penis . . . my children were watching."
5.  "[It] was disgusting.  The close ups of J-Lo's vagina and anus was yucky."
6.  "We live in Eastern Kansas, but have no TV, thus [we] took our nine-year-old daughter to our local small-town sports bar to watch the game.  She's a farm girl, so she understands sex, but could not stop asking 'Mama, what's all this?'  Totally confused, and as she emerges into her young womanhood, absolutely abused."
7.  "'J Lo' should be 'J LOW'!"
8.  "This is a family show not a sexual predator show.  Next time just show Robert Kraft's message parlor videos!"
9.  "Horrific sexual display . . . and we wonder why early teenage pregnancy happens and we wonder why young men expect the young female to be a willing sexual creature who wants sex . . ."THIS FROM A PORN ADDICT FOR 35 YEARS.  Now as a sex addiction counselor, I see the ravages of this as well as the highly sexualized pop culture."
10.  "NOT FAMILY ORIENTED! . . . Only place that might belong was a strip joint!  Proper attire please!  I'm a retired dancer, but I'd never wear crap like that in-front of a family show.  Get your morals back on!!"
11.  "It was borderline sexual harassment.  If I rub my private parts in front of a crowd of people I get arrested, she does it in front of 100,000,000 people and gets praised."
12.  "NO WONDER KIDS ARE SOOOOOOOOOOOOOOOOO SCREWED UP TIN THE HEAD???????? AND GROWN MEN TOO??????????? . . . THESE PEOPLE, ALL WHO PARTICIPATED OR ALLOWED THIS ARE THE LOWEST OF THE LOW.  PLEASE STOP THIS OUTRAGE."
(You can revisit the full Super Bowl Halftime Show, here.)


Read More: Wanna See The FCC Complaints From The Super Bowl Halftime Show? | https://1045theteam.com/wanna-see-the-fcc-complaints-from-the-super-bowl-halftime-show/?utm_source=tsmclip&utm_medium=referral