Uncategorized
May 27, 2020
By, Dylan Barmmer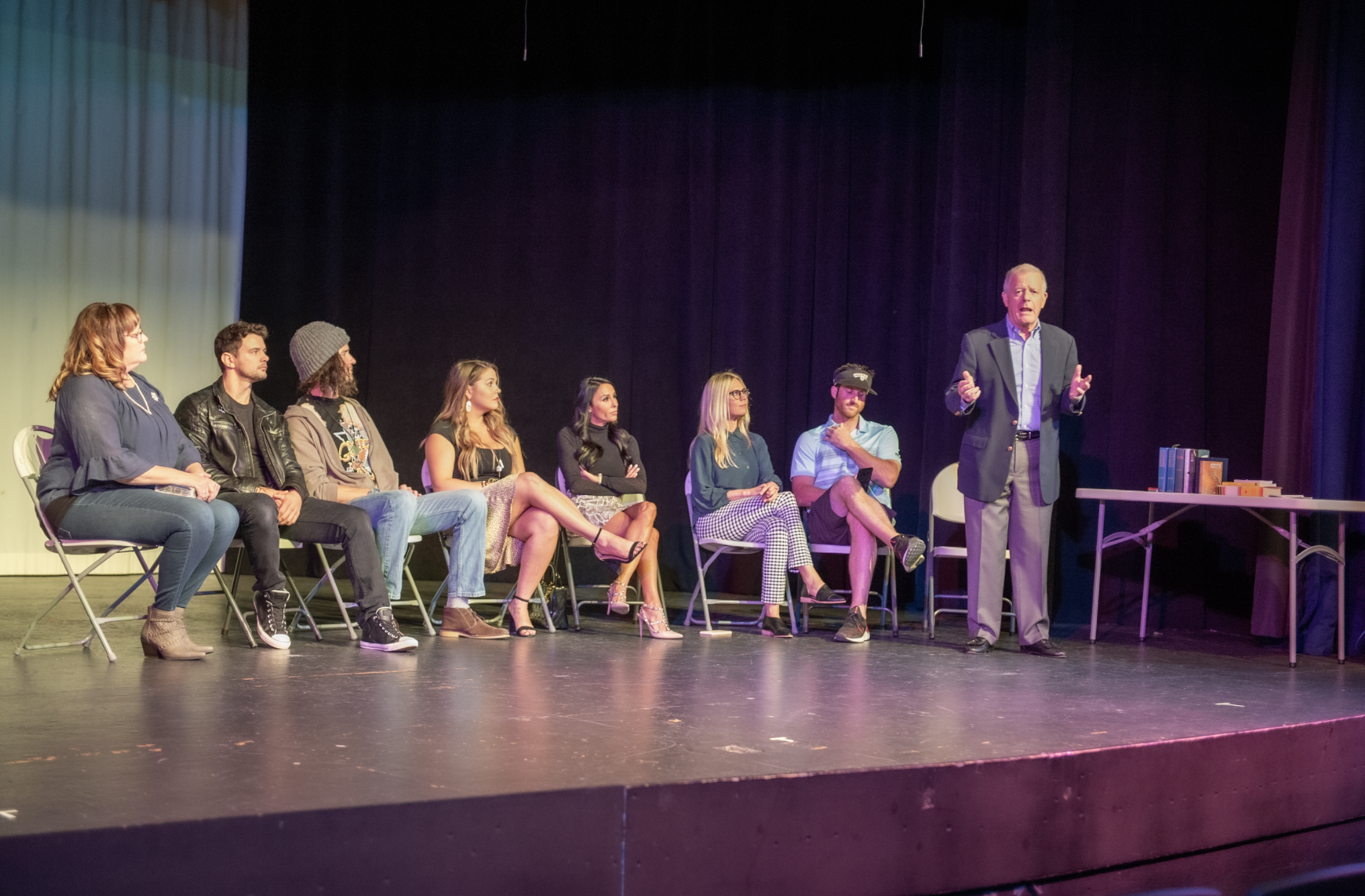 Dave Roquillo quit drinking more than 30 years ago. He started writing a little over two years ago. First came a movie script. Then a TV show pilot. Then the TV pilot evolved into a play. 
Now, a handful of performances in, The Last Call has likely made anything close to its final appearance on stage. If anything, the show is just getting started. 
On a crisp Saturday winter evening in Huntington Beach, California, the first-time playwright's hour-long, one-act play completed its fifth-ever production in front of around 300 people at a sold-out Huntington Beach Central Library Theater. The audience gasped, laughed and applauded as an original, raw, revealing look at the journey of eight members of Alcoholics Anonymous unfolded on stage.  
"It's been a real labor of love," Roquillo told an engaged audience during a spirited question-and-answer session following the performance. "There's only one real actor here. Everybody else, this is their first time. We rehearsed all this in a three-car garage at my house starting last October."
Love is certainly part of the story. Along with lust. Trust. Betrayal. Breakups. Arguments. Apologies. Vulgarity. Serenity. Seizures. Even a fatal heroin overdose. All of this and more explodes into colorful life (and language) during the stirring showing of The Last Call, whose story arc revolves around a new but surprisingly deep relationship between two male characters – seemingly happy-in-sobriety surfer dude Zach and anything-but-at-ease, court-ordered rebel-with-an-insult Johnny Ray.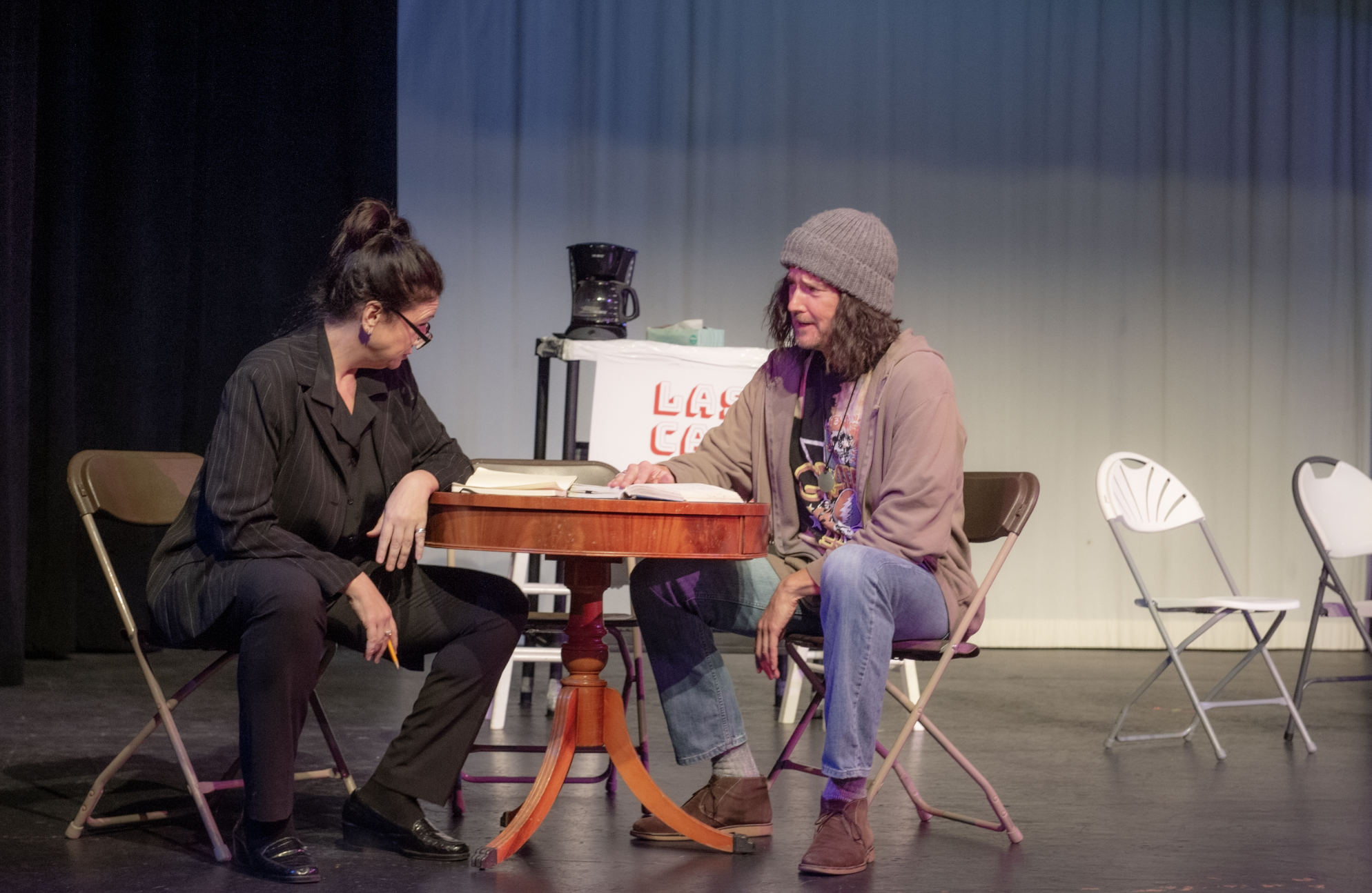 As portrayed by first-time actor Peter Keseric and veteran thespian Patrick Taylor, Zach and Johnny Ray traverse wildly different yet eerily similar paths that draw in a wide range of ancillary yet unforgettable characters such as young aspiring fashionista Morgan (Melanie Trap), bitter, edgy divorcee Jennifer (Nicki Lafever), arrogant aging white elephant Windsor (Greg Morrell), seemingly bipolar meeting maven Carly (Jennifer Sawyer) and bubbly blonde rainbow warrior Libby (Kristen Smith). Oh, and then there's Libby's "normy"-yet-shady boyfriend, Ben, forever buried in his phone and played with strong physical dexterity by David Sapienza. Late in the play, a heartbreaking twist ending is facilitated by mouthy Run-n-Gun Insurance Agent Malavinny (Kelli Nix).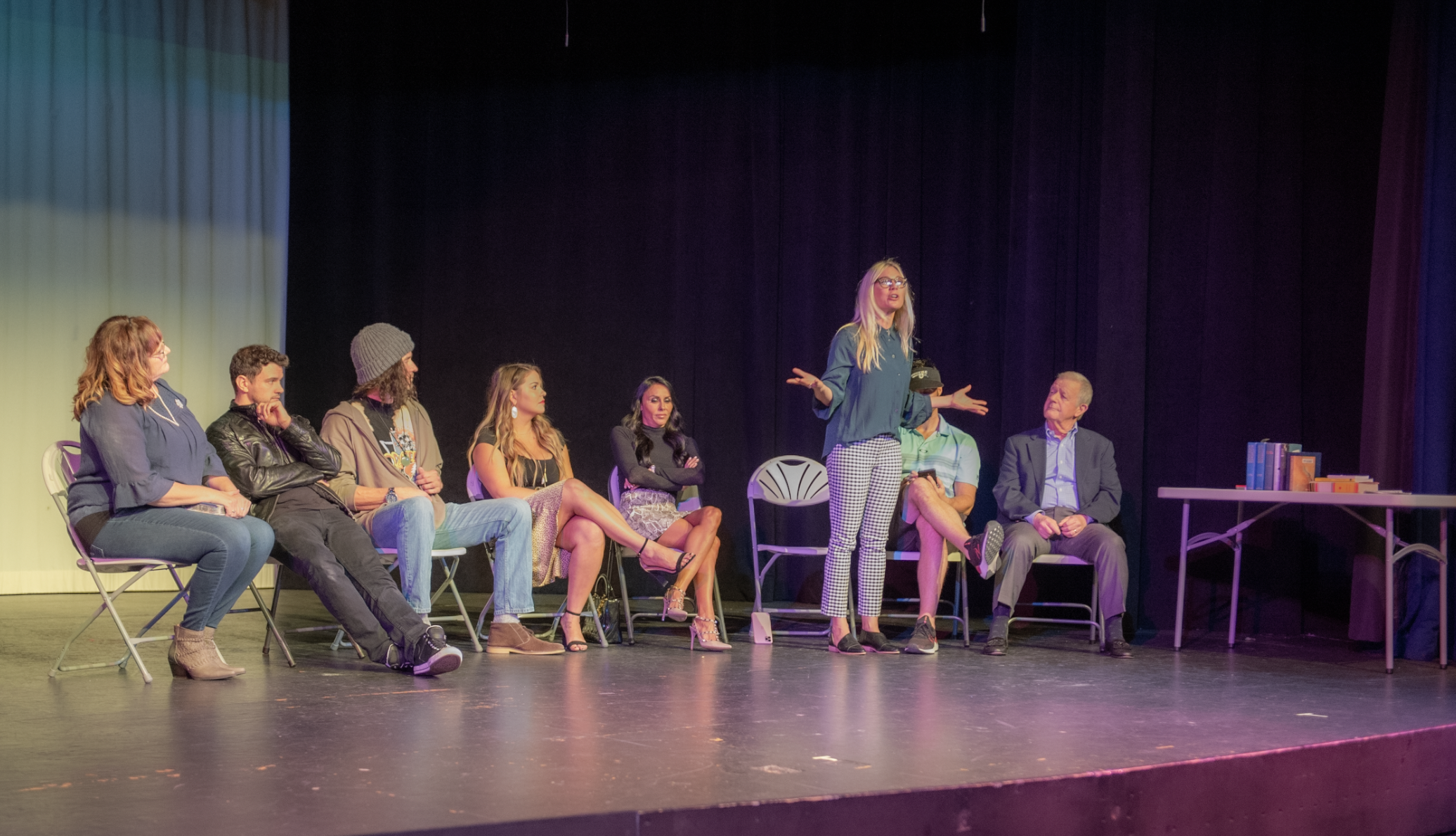 Most of The Last Call story takes place in The Last Call Solutions Group meeting room, although other locations make appearances, including an ominous "trap house" that features enhanced stage lighting and sound effects. The Last Call lasts only an hour and its story arc encompasses just one day, but the enthusiastic audience reception and curious question-and-answer session that followed suggested that much longer-lasting impressions were made. Clearly, Director Ronquillo and Assistant Director Libby Desmond have hit on something with serious potential to touch many lives and hearts. 
Ronquillo isn't sure just what the future holds for The Last Call, and he's not likely to quit his day job as a Client Advocate at Hotel California By The Sea in his native Newport Beach to go Full Hollywood anytime soon. But he was more than willing to share his vision, inspiration, hopes and dreams for his passion project, which started percolating a while ago before peaking in a month-long writing session that was interrupted by a determined drive to book a venue – the play debuted at the 90-seat Newport Theatre Arts Center before moving to Huntington Beach. 
"I wrote this play in a month," recalls Roquillo. "I started, stopped, got a venue opportunity and set some dates. Then I picked the play back up again and finished the script. So I figure I work pretty good under pressure."
Roquillo cites Dustin Hoffman classic Midnight Cowboy as a primary influence on the Zach-Johnny Ray dynamic at the heart of The Last Call, but is just as quick to point out that some 70,000 Americans died from drug overdoses in 2019. Equal parts poetic and pragmatic, Roquillo is quick, natural, easy and adroit in conversation – and his script reflects this dexterity and versatility.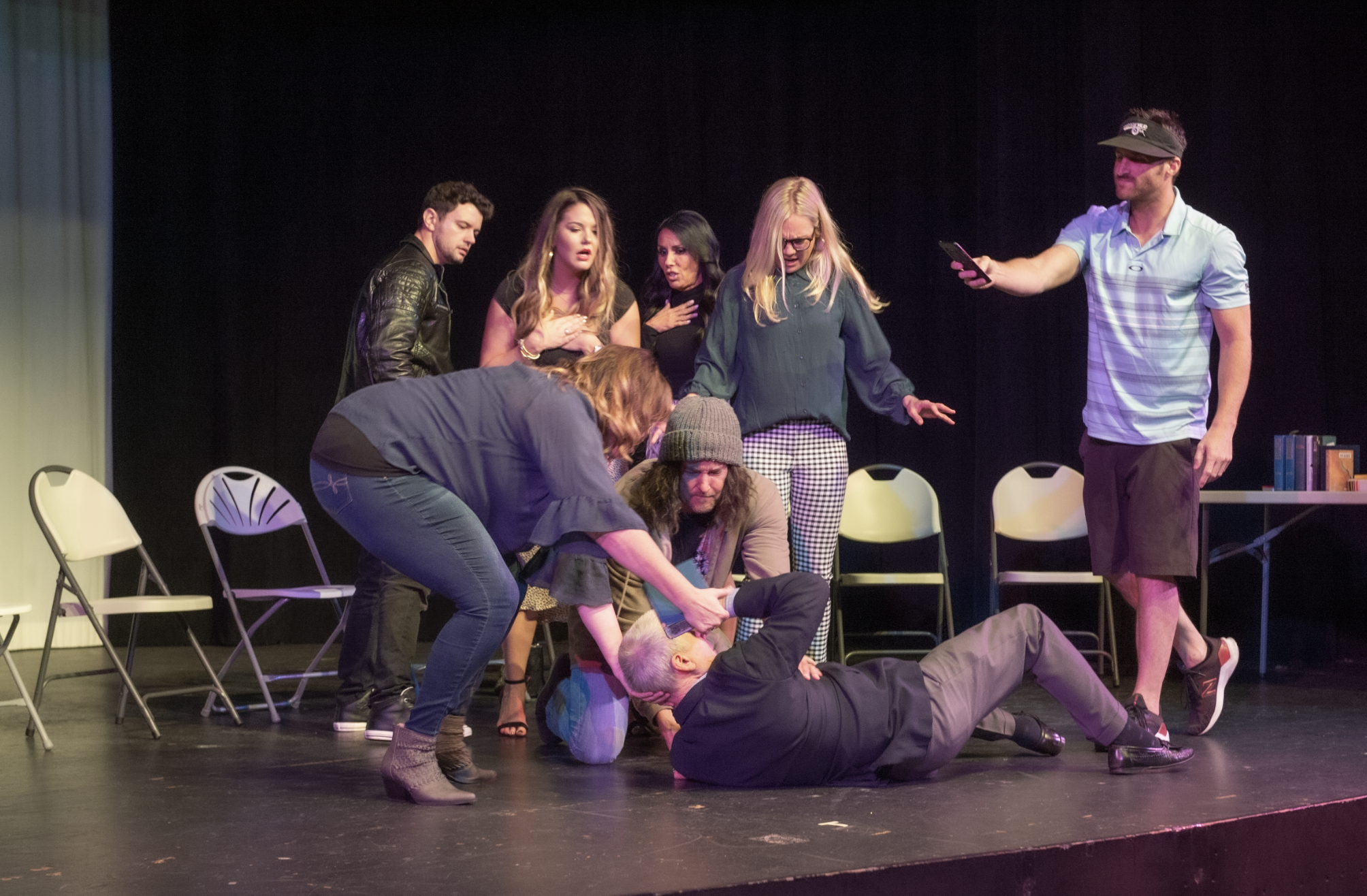 Sapienza, who portrayed oafish, aloof boyfriend Ben to a (golf) tee, doesn't hesitate to salute Roquillo for his natural abilities as writer, director, mentor and…talent scout.
"Being a first-time actor and having an experience with Director Dave, running through the scenes and roles with him, it was quite impressive how many different perceptions, and dynamics on those perceptions, that he was able to think about and bring into each role, scene and part of the play," said Sapienza, still clad in a golf visor after his strong performance. "I tip my hat to him for being a great director."
Sapienza also was quick to touch on Roquillo's excellent abilities as a scouting director. Roquillo essentially utilized Orange County AA meetings as casting calls, looking for the ideal people to portray the characters he had conceived in his head. Eventually, he came calling on the chiseled, charming Sapienza, whose last acting experience had come as a third-grader in Mission Viejo. 
"He had seen me sporadically here and there," remembered Sapienza. "He hadn't seen me in a little bit, and I ran into him at a meeting at the Balboa Yacht Club. He called me out after, and asked me how I felt about acting. I was kind of hesitant at first. But I'm into pushing my envelope and stepping outside of my comfort zone. So I went with it."
"I wrote the characters, then started going down a list of five or so people that I knew for each one," recalled Roquillo. "A lot of times, somebody doesn't work out, then somebody else steps up. But you never know what you're gonna get."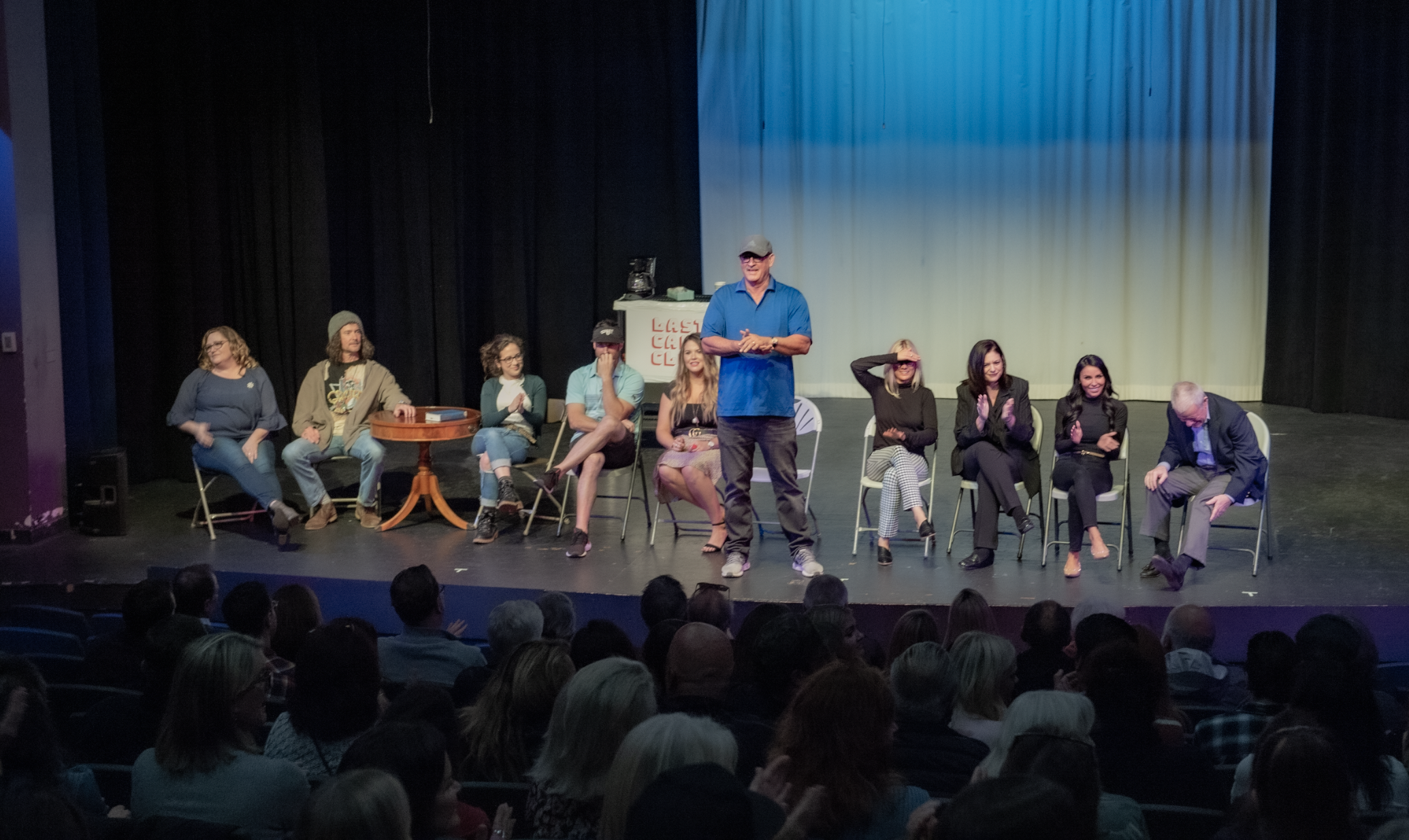 Roquillo also doesn't know if there's any big-time, long-term potential for The Last Call. But he's willing to find out. 
"I don't know if it could go mainstream," said Roquillo, who was quick to credit the strong support of his wife Katie for the play's successful debut. "If this play could turn into a mainstream thing, that would be great."
No matter what the future holds for The Last Call, the hundreds of people who have seen, felt and connected to the play in person – along with the new-to-acting cast members – aren't likely to forget it anytime soon.