Uncategorized
May 27, 2020
For three decades, Dr. Drew Pinsky has been working in the trenches of addiction and recovery as a
physician and addiction medicine specialist. He also enjoys a prolific career in media and is well-known for hosting and producing such recovery-related television shows as VH1's Celebrity Rehab with Dr. Drew, Rehab with Dr. Drew and Celebrity Rehab Presents Sober House.
On March 12, Pinsky will speak at the 13th annual Addiction and Recovery Lecture Series at Horry-Georgetown Technical College. The four-part free weekly series starts Thursday and includes speakers, student panels and presentations from local organizations including Faces and Voices of Recovery — Grand Strand, Shoreline Behavioral Health and Lighthouse Behavioral Health Hospital. 
Pinsky follows a roster of celebrities who have spoken at the series over the years, including actors Danny Trejo, Louis Gossett Jr., Mackenzie Phillips and most recently rocker and Everclear frontman Art Alexakis.
In a recent interview, Pinsky told The Sun News that one of the goals behind the TV shows was to reduce the mystery surrounding recovery — and also to expand the understanding that it is dangerous and hard work to recover. 
"We feel like we achieved that, but it's weird now that the term 'rehab' stands for everything. The term has been declawed, but we still aren't allowed to say, 'psychiatric hospitalization,' " he said.
According to Pinsky, an addict can recover but they can't say they are cured, and he makes a distinction between recovery and complete recovery.
"I'm interested in bringing people into complete recovery. That's why I got into the field," he said, adding that very few physicians receive training in full recovery practices. 
He believes that a combination of a 12-step program and professional intervention is the sweet spot when it comes to such recovery, and there aren't enough professionals stay with a person and give them the support they need when they are in early recovery.
"But people who have been sat on by others in the program are available to do that for you and are happy to do so," Pinsky said. "That is part of the magic of recovery. Beyond that, get yourself a sponsor. If you don't get a sponsor, you're not in treatment."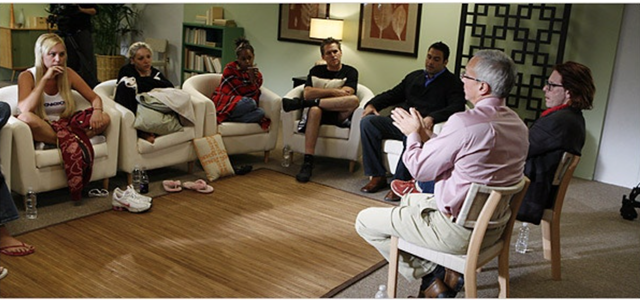 For those struggling with addiction, Pinsky said a simple phenomenon will help.
"Just follow direction. If you can do that and run the white flag up, surrender and start following direction, you will get better. However, I understand the state the brain is in when you're using makes this extremely difficult."
Event organizer and founder, HGTC physics professor Casey King has been the driving force behind the series since its inception. Sober since 2005, he has said over the years that he wanted to change the face of recovery. He was quick to point out that he is no different from anybody else in long-term recovery but has come to realize that everything positive and enduring in his life is due to recovery.
"It allows me to live the life I was meant to live instead of the life my addiction forced me to live," he said. "Changing the face of recovery is allowing others to see there is nothing negative about solid recovery. It can work for anyone."
King was named HGTC Professor of the Year in 2019.
It's as if fate intervened when King confirmed another celebrity speaker for the March 5 slot.
Bob Forrest is the frontman for Los Angeles-based punk rock band, Thelonious Monster. He might be better known to the general public as the tell-it-like-it-is counselor on Celebrity Rehab and Sober House. 
Forrest said he visited 24 rehab centers in a nine-year period but finally got sober when his criminal activity landed him in the Los Angeles County Jail. 
"This is not a place you ever want to go back to," he said. "Maybe it was all the time I had to reflect on what had happened, and how the heck I'd gone from living in a mansion, driving fancy cars, having a record deal with Capitol Records and then losing everything."
Seven years ago, Forrest opened his own treatment center, Alo House.
"We consciously designed it around concepts of kindness, love and compassion. And it works," Forrest told The Sun News. "We treat our clients like adults, with dignity and respect, and we notice a huge difference when we compare this approach to the more traditional, punitive approach to treatment."
The HGTC series runs Thursdays at 7 p.m. Feb. 20–March 12 at the Burroughs and Chapin auditorium on HGTC's U.S. Highway 501 campus.
For more information, visit www.facebook.com/AddictionandRecoveryLectureSeries.