May 27, 2020
By Gia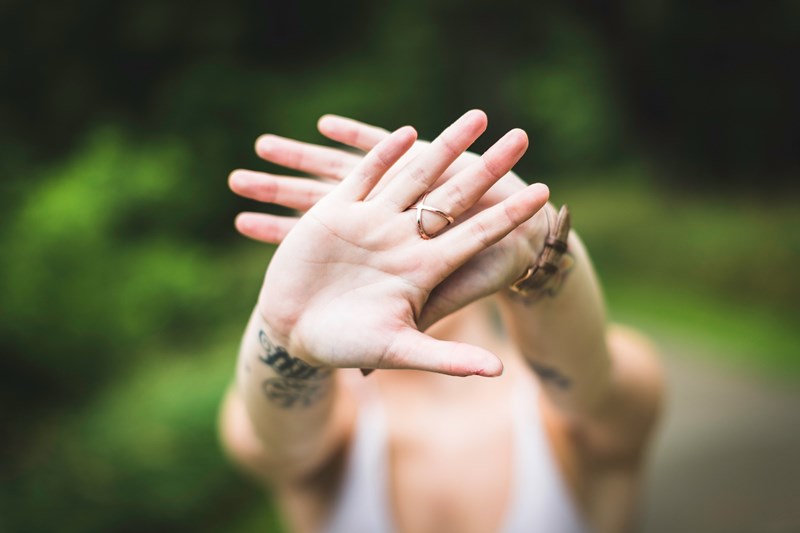 For years, I tried so hard to be someone that I was not. I lost sight of myself. Maybe the journey of someone's life is not so much about becoming anything. Maybe it's about unbecoming what is not you so you can eventually be who you were meant to be in the first place.
All of my tattoos tell a story of who I was, where I have been and how I felt at certain times in my life. My etchings are a reminder of my mostly troubled past: a former drug addict on a quest to destroy herself. I firmly believe that my tattoos were part of my self-harming because I really knew it would upset people close to me. I was trying to hide my true self by becoming something I wasn't. I was miserable. I just went and got all these tattoos, without knowing why. I didn't love myself enough to say, "No, this isn't me." What I do remember was liking the pain and the noise of the tattoo, so I just got more and more.
However, my skin will soon be as pristine as a newborn babe thanks to Wayne Joyce at Reset Room, a tattoo removal clinic on Wardour Street in London. Joyce is considered the top tattoo removalist in London, according to Marie Claire.
There are approximately 20 million people in the UK with tattoos, and 1 in 5 would like them removed, according to Reset Room.
Traditional laser tattoo removal treatments require anywhere from 10 to 20 sessions spaced six to eight weeks apart, depending on variables such as type and color of ink used. The downtime can be very inconvenient and can take up to two years.
But Joyce offers another option: The world's first safe and effective aesthetic laser that uses picosecond technology. Ultra-short pulse bursts of energy are delivered to the skin in just trillionths of a second. Clinical studies show that PicoSure is able to treat multicolored and complex tattoos more efficiently, with more significant removal in much less time. Even dark, stubborn blue and green inks as well as previously treated, recalcitrant tattoos can be removed.
I'm having all of my tattoos removed—even the ones I am sentimentally attached to. I also don't want to have my nephew and niece getting tattoos. I'm going to film the procedure so they can see how painful it is. Hopefully that will deter them from ever wanting to have one.
The first tattoo I had is on the inside of my finger. I then got a star on my right forearm followed by a poem on my right arm, then a phoenix rising into the sun on my spine. Getting them removed will take several months, and although I'm not looking forward to the pain, I've heard it hurts less than getting the tattoo. I hope so anyway.
Related: