May 4, 2020
By Gregg Shapiro
Beginning in the mid-1960s and continuing to the present day, singer/songwriter Jimmy Webb has been an audible part of our consciousness. The songs he wrote that were recorded by Glen Campbell ("Wichita Lineman", "By The Time I Get To Phoenix" and "Galveston"), the 5th Dimension ("Up, Up and Away"), Art Garfunkel ("All I Know"), and Richard Harris and Donna Summer (both of whom recorded hit versions of "MacArthur Park"), among many others, established him as one of the most important songwriters of his generation. As you might imagine, there is more to Webb than his unforgettable songs and in his new memoir, The Cake and the Rain (St. Martin's Press, 2017) he fills in the details through the early 1970s. I spoke with Webb about the book and his music in the summer of 2017, shortly before the passing of Glen Campbell.
Jimmy Webb:  My first book, Tunesmith: The Art of Songwriting, gave me the opportunity to write about my craft, songwriting.  This book, The Cake and the Rain, gave me the freedom of space to write what I was thinking about during the 60s, to have more than a three-and-a-half-minute song to explain where I was and what I was feeling and to paint a picture of the 60s and the music scene.  I am 70 years old. Let's be honest, there is more behind me than in front of me—it was time to start sharing these stories. 
GS: You utilize a non-linear timeline to tell your story. 
JW: Thank you for mentioning the timeline. This format took dedication and made the writing much more complicated. I write the story in two distinct and contrasting storylines.  The first is in technicolor: Hollywood, stardom, the girls, the fast cars and planes. The entwined story line is the stark black and white of my childhood in Oklahoma, the poor rural life that surrounded me, my proud, hard-working grandparents. . .It is about our itinerant preacher family lifestyle.  Both timelines tell the story of who I am, where my songs come from and what America looked like during those years.  At the end, the timelines meet– or crash, actually. 
GS: In the book, you show respect for other songwriters by your use of citations; song titles are followed by the songwriters' names in parentheses. 
JW:  That was very important to me because, obviously, I am a songwriter.  Mr. Sinatra pushed many a songwriter into the spotlight by mentioning their name from his stage. He did that for me more than once.  My friend and collaborator Glen Campbell would do that as well.  Before the singer songwriter era which brought us James Taylor, Carole King, Billy Joel, before bands wrote their own material, there were actual songwriters who provided the songs – they didn't sing them – they wrote them.  Most often it was a team where one wrote music and one wrote lyrics.  I actually do both on all of my songs.  
Mr. Sinatra, Tom Jones, Barbra Streisand – they are pure singers who relied and still rely on the byproducts of our poet craftsman songwriters to provide their material.  I am dedicated to promoting songwriters and continuing this craft in the highest form possible.  It is my duty to remind the readers of the names of these great songwriters.  
GS: Boats, airplanes and especially cars figure prominently in The Cake and the Rain. Can you please say something about how these various modes of transportation, and by extension means of escape, figure into your life?
JW:  I love toys – always loved them as a child because they were so few and far between.  I grew up during the golden era of the American V-8 automobile.  My Dad bought me a '56 Olds when I was 15 years old. It was the most beautiful thing I've ever seen before or since.  Sailplanes and yachts share the same magical quality of propelling themselves seemingly without outside input.  Of course, the game of using wind power is the ultimate three-dimensional thrill– save perhaps one. 
GS: The Cake and the Rain ends in 1973. Does this mean that that is as much of your story as you wanted to tell or have you started work on the next installment?
JW:  Publishers have a strong feeling about how many words should be in a book—I had a lot of stories to tell and the event in 1973 that ended the book, seemed like a natural stopping point.  My life changed dramatically after that.  I have plenty of stories that didn't fit in the first half and more to tell from 1973 on.  I am anxious to start another book, after I finish writing this current portfolio of songs.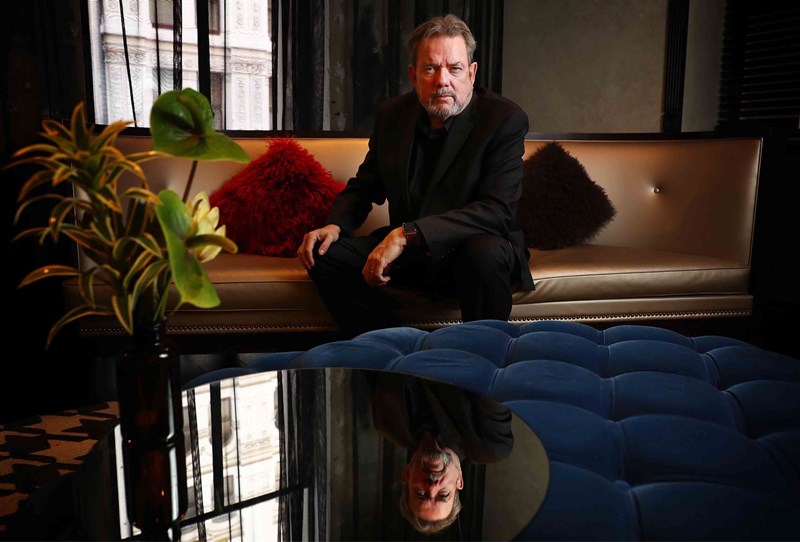 Image courtesy of John Feder / The Australian
Gregg Shapiro: Jimmy, why was now the time to write your memoir The Cake and The Rain?
GS: As someone who has written stage musicals, how would you feel about a biographical jukebox musical, such as Carole King's Beautiful or The Four Seasons' Jersey Boys being done about you?
JW:  Wow, now that would be an honor and a pleasure.  
GS: In addition to the publication of your memoir, 2017 finds you as a presence on Glen Campbell's final studio recording Adios. What does it mean to you have your songs featured prominently on this project?
JW:  The first time I heard that album I was on tour, in some hotel somewhere.  I will be honest, I cried. I have four songs on that album, four songs that Glen and I always talked about recording and never got around to.  By some miracle, and the love of producer Carl Jackson, these songs have now been recorded.  Glen's voice is fine form.  That is the sound of my friend Glen and his voice on these songs is a new memory I did not expect and that I will always cherish. 
GS: Finally, Jimmy, on p. 191, you write about the time that "Johnny Rivers stopped using drugs altogether", and you include details about your own drug use. You are now sober for 17 years, can you please say something about that?
JW:  I am not proud of my drug and alcohol use.  I made some mistakes that I am honest about in the book.  Being sober gave me a second chance at life.  I am happily married for 12 years now to Laura Savini. My voice is stronger than ever and my touring career is the best it has ever been.  And I have this book!  
Drugs, especially cocaine, were just about the norm during that time—it was a form of money – we even paid or were paid in drugs from time to time. Not all of us made it out alive.  I am grateful that I did – and when you read the book, you will know I came pretty close to not making it out alive. I almost lost the ability to play the piano, I almost lost my life—and I almost lost Harry Nilsson during that episode.  
Being sober is a commitment that pays you back with another swing at happiness and success. I highly recommend it.