May 27, 2020
Nothing about addiction is funny. But humor heals all wounds. That's why
Mark Lundholm
and
Kurtis Matthews
have teamed up to share stories about recovery and overcoming life challenges as comedians and former drug addicts. Drawing upon their friendship, experiences around addictions and surviving life's darkest moments, Lundholm and Matthews created the revealing comedy show
The Addicts Comedy Tour. 
National headlining and top-grossing recovery comedians Lundholm and Matthews have more than 50 years of stage experience and recovery between them. Lundholm has appeared on Comedy Central, Showtime, A&E, CBS and NBC, and wrote and performed his own one-man show off-Broadway in New York. Matthews starred in the BBC's
Find Me the Funny
and has appeared on A&E and VH1. Founder of the
San Francisco Comedy College
, the largest stand-up school in the U.S., Matthews cultivates new comedy talent in the Bay Area. 
Matthews sat down with Renew to talk about how humor has aided his recovery and the upcoming The Addicts Comedy tour.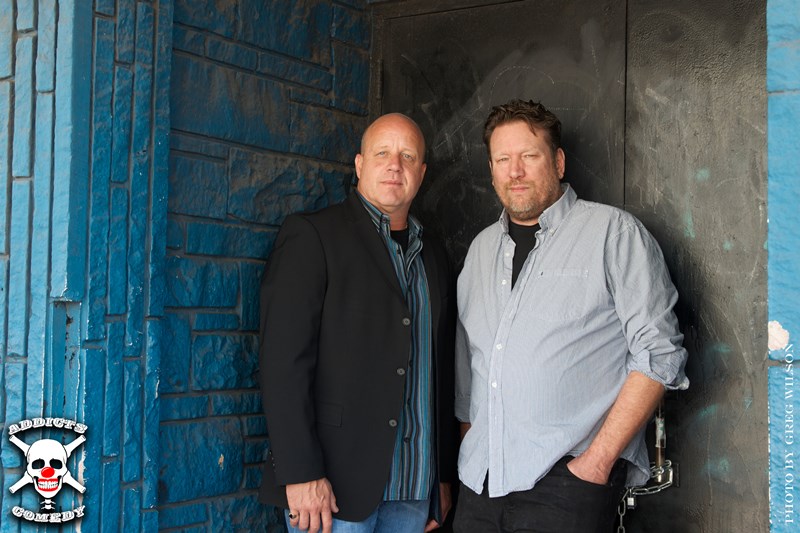 Renew: Can you start by telling me a little bit about yourself? Who are you, and what do you do?
Kurtis Matthews: I've been a standup comedian since the 1980s. I own and operate the San Francisco Comedy College. I tour with Mark Lundholm. I've been clean and sober since 1984. I'm still funny for an old guy. 
Renew: What is your relationship to addiction and recovery?
KM: June of 1984 was my bottom. I drank hard from 16 to 22. I had a DUI. Luckily, I didn't kill anyone. I was convicted. I started going to meetings. I started meeting people in meetings. Now I have 32 years of sobriety. Despite my best efforts, I'm still sober. 
Renew: How did you and Mark Lundholm team up?
KM: Years ago, I was a headliner at a club. This guy came in, all twitchy. He told me he would be headliner one day, but he seemed like a drug addict. If a person's addiction is alcohol, they're mellow and depressed. If it's drugs, they're over-excited and full of themselves. But then he told me he had two years clean and sober. We became buddies. Within six months, I was his opening act. That's 25 years of friendship.
We're both different comedy wise. Over the years, he was pursuing comedy and clean and sober work. I was pursuing mainstream comedy but being sober. We thought about the Comedy Addiction Tour. It was for comedians, all clean and sober. It had impact, but the theaters were too big for us. It was too complicated and expensive. It was too dramatic at times, too. We all know the bottom. We don't need to show it to the audience every night. So we took a break.
About two years ago, we started The Addicts Comedy Tour. We like each other. Our styles work together. 
Renew: Who are your comedic influences? 
KM: There are two types of people: One is a great performer and not a great writer. The other is a great writer and not a great performer. That's when people first start. They bring one of the two things to the table. If you take a comedy writer like Jerry Seinfeld and run him into a performer like Robin Williams, it would be perfect. Mark's a writer. Every word is important. His influences were George Carlin and Woody Allen. (But Mark's also a great performer.) My influences were Richard Pryor and Gary Shandling. They were stronger as performers. I'm all over the stage. I'm more of a, "Hey, it's show business!" Mark is thoughtful and methodical. We complement each other. 
To be more specific, I can play stupid better than Mark can. Stupidity works for me as a comedic vehicle. Mark is the smart, vindictive brother who loves you. I'm the stupid one. It's smart and stupid. 
Renew: How has humor aided your recovery?
KM: Every alcoholic has this lonely darkness. Being in an audience full of people makes you feel connected. When comedy is good, it really feels like a meeting. The only difference is, instead of me talking about my disease, I'm talking about all of the issues related to the disease. It's service work, too. The only reason we charge money is because it costs us money to go places. It makes us feel good, feel connected. When the audience gives back — and our audiences are great — it's amazing. It saved my life in many ways. I've always felt like standup is what I'm supposed to do. I think Mark feels the same way. We were born to take this ADD, narcissistic weird darkness and turn it into something light. 
We do conventions, conferences, halfway houses, rehabs. But we also go into mainstream comedy clubs. We want to talk to the public. We don't talk about our programs. But we do talk about our problems. Regular people will get what we're talking about. Everyone is touched by addiction. 
Renew: Does your comedy tour have a message?
KM: All comedy is about redemption. All great stories are about redemption. Here are two mess-ups in life. It's everybody's story. It's not just two alcoholics' stories. Everybody has something to deal with. We're just two more examples of people who survived. Here's our story of survival. Here's how we're funny with dealing with tragedy. Sometimes it's terrible and messed up, but we're going to be OK if we stick together. 
Everybody has a reason to come to our shows. 
They're about hope — and being funny. When I watch a performer, I want to know who they are. Tell me something about you. If they're hiding behind jokes, I don't feel that. That's why great performers are ones that really bare their soul — and make it funny. That's what we're trying to do: Be really honest on stage. Come to the zoo. Sit near the alcoholics and drug addicts. Normally, people get redemption out of it. They get to look into our insane minds, get clarity on their weird Uncle Jim. There's funny stuff that works just because it's funny, too. 
Renew: What's next for you?
KM: Our goal is to keep touring until we can't anymore. This iteration is Mark and I. But Mark is getting busier and wanting to be on the road less, and I want to be on the road more. We work with Recovery Comedy. They do nothing but clean and sober comics. All of us know one another. Some version of the tour will continue on forever. The next two dates for us
July 24 at Hyena's Comedy Club in Dallas
and
July 26 at Joke Joint Comedy in Houston.