August 27, 2021
My dear friend just lost her only son to an overdose. Some might say he lost his lifelong battle with addiction but we believe ultimately he won, as now he is at peace. At just 31 years old, Blake had struggled with substance abuse for decades. He was living in a halfway house when he overdosed for the last time. He didn't want to die. He was looking forward to a trip to Disney with his mom, stepfather, and brother the following week, already wearing his wristband. But, despite being sober for over a year, he had lost his job which was a trigger and enabled his personal demons to overtake him. This happens every day, over 100 times, in our country and the rate has tripled in the last 30 years. His mom told me years ago that each time he slipped, she prepared for the worst. That day has come.
According to the latest National Survey on Drug Use and Health, approximately one in ten Americans over the age of 12 are addicted to drugs and alcohol. It has been reported that only 11% of those struggling with addiction receive treatment. This statistic does not even include other addictions, including pornography, sex, gambling, food, the Internet, work and others. When one member of the family is engulfed by addiction, the rest of the family orbits around the dependency and is negatively impacted as well. I know because addiction has impacted my family as well.
The ongoing and continuously increasing pain, suffering, and mortality associated with addiction far outweighs the deleterious effects of the current COVID pandemic yet gets much less press. In fact, according to the CDC, there were more deaths from drug overdoses last year than ever before in the history of mankind. That number has increased through the pandemic and is expected to escalate going forward. We continue to mandate substance abuse awareness programs in schools; however, the increasing severity of the problem proves that our children need more.
My dear friend's son, Blake, was unprepared to cope with the challenges he faced in life. Despite being an incredible young man, beautiful inside and out, deep wounding caused an excruciating lack of self worth and debilitating anxiety. This became a vicious cycle in his life. He would get knocked down by addiction but would always get up again. He never gave up, but ultimately died trying.
Oh, but if you knew the real Blake as I did most of his life! Blake was a bright light with a huge heartfelt smile and a warm, authentic embrace. He was empathetic and exuded love and generosity. He had a tremendous sense of humor and was infinitely loyal. He loved his family. In fact, the day before his slip he was helping his stepbrother hook up his cable and ended up helping the rest of the dormitory, as well. During Blake's eighth grade graduation, every class member got up to share their middle school experience and ended with, "…and Blake is my best friend." Blake had just fixed up his jeep and was proud of his handiwork. He excelled at every sport he tried and proudly displayed his coveted ace jumpshot on his Facebook page. His family cherished him. He had a lot to live for!
My nickname for him was, 'Blakeamunga.' I worked with his mom at an investment banking company in the 1990's. One morning, many years ago, I remember picking them up because it had snowed and I had a four wheel drive vehicle. I remember Blake walking around the front of the car, all bundled up, smiling widely. He suddenly slipped, his feet flying out from under him and he landed flat on his back. He stayed there for a few seconds then flipped over, got up, and burst into the car with his beautiful smile to prove he was okay. We dropped him off at school on the way to work. I wish he could have gotten up, once again, dusted himself off and beat the addiction this time as well.
I never would have imagined that Linda and I, friends for over 30 years, would one day both be mothers grieving the loss of their sons — mine to murder, hers to addiction. This is the reason I created the Choose Love Movement, to reduce and prevent senseless tragedies such as these. Choose Love's lifespan social and emotional character development programs and resources offer the essential life skills that help reduce violence and substance abuse. Rather than simply focusing on the issues, these resources address the cause and therefore can reduce and prevent the suffering before it begins.
Choose Love and social emotional character development teaches the essential life skills that are needed to help kids cope with the tremendous pressure they are under in today's world and what they will ultimately use in every aspect of their lives, including with their own families, at work, and in their communities, to flourish. These tools, such as self awareness, responsible decision making, emotional management, social awareness and relationships skills have been thoroughly researched and are the optimal way to help kids learn from, grow through, and be strengthened by difficulty in their lives, rather than being taken down by it. Most importantly, these skills can reduce and prevent bullying, substance abuse, mental illness and violence. This powerful research-based approach addresses the cause of the suffering and therefore can be the solution.
Blake knew the importance of organ donation. His mother is the recipient of two hearts and a kidney. I was grateful to have been present for Blake's 'Honor Walk.' Blake was to be transferred by EMS to another hospital to have his organs harvested. The hospital presented a "Code Honor" as staff lined the hallways on his final trip out of the hospital where he had been treated in gratitude for his gift of life to others. Blake's sacrifice will save eight individuals. It's not the ending his mom ever imagined, but she understands through her struggles that the meaning of life is to use what we learn from our experiences to help others in any way possible. That's the definition of choosing love.
My friend told me that she worried about Blake every minute of every day. If he was in recovery and doing well, she worried about him slipping. If he was using drugs, she worried about him overdosing. I told her that she could stop worrying now, he was safe and in eternal peace. Her eyes widened at this realization and she found a small respite of relief. But I know the sorrow she faces going forward.
We will miss you, Blake. I love you. Say 'Hello,' to Jesse for me and give him one of your big hugs.
By Scarlett Lewis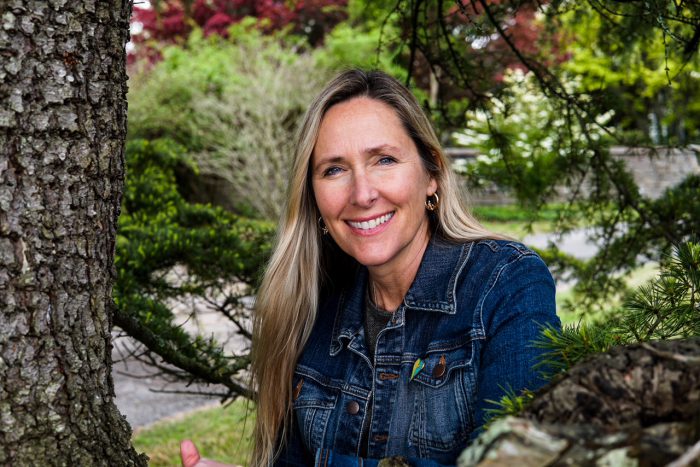 Scarlett Lewis founded the nonprofit Jesse Lewis Choose Love Movement in honor of her son, Jesse, who was murdered during the Sandy Hook Elementary School tragedy in December 2012. Shortly after his death, Scarlett decided to be part of the solution to the issues that we're seeing in our society — that also caused the tragedy — and turned it into an opportunity to build a culture of love, resilience, forgiveness, and connection in our communities at a time when it is needed the most. Scarlett became an advocate for social and emotional learning (SEL) and character development that teaches children how to manage their emotions, feel connected, and have healthy, meaningful relationships. She created the Choose Love For Schools program, a no cost, comprehensive, lifespan, next generation character and social emotional development (CSED) program that teaches children and adults how to thoughtfully respond with love in any situation by using the Choose Love Formula (Courage + Gratitude + Forgiveness + Compassion-in-Action), and teaches children how to handle adversity, have courageous conversations, and to respond with love. Choose Love extends beyond the classroom through additional no-cost programs, including Choose Love at Home, Choose Love for Communities, Champions Choose Love for athletic leadership, Choose Love for the Workplace, and multiple extension programs. The Choose Love programs have been accessed in all 50 states and in more than 100 countries, reaching 2 million children.
Since the tragedy, Scarlett has spoken across the US and internationally to diverse audiences sharing her empowering story and her far-reaching programs, urging everyone to become part of the solution to the issues the world is facing. Scarlett has spoken at multiple national, statewide and community-based events including hundreds of talks in schools and to educators and administrators. She was the keynote speaker at the 2018 and 2019 National Forum on Character presented by Character.org and in 2020, was the keynote speaker for the New England Head Start Association. In addition, Scarlett has presented at the Music City SEL Conference in Nashville; SXSW EDU Conference; ASCD Empower; the Nebraska Mental Health Conference; and multiple statewide Counselor Association Conferences. She has been interviewed by BBC, Fox News, CBS, the Today Show, The Guardian, and many regional papers and podcasts about Choose Love and the benefits of SEL, and has been featured in high-profile magazines, including Fortune, Strive, and Huffington Post. Scarlett also hosts a podcast, ChooSELove, speaking about the character traits that comprise the Choose Love Formula and how the formula can be used in any circumstance to promote self-empowerment, resilience, connection, and optimism. Scarlett is also a frequent contributor to other podcasts and shows. In 2021, Scarlett was named a Forbes 50 over 50 Impact Honoree, one of 50 women leading the way with impact and changing their communities and the world in ways big and small through social entrepreneurship, law, advocacy and education.