May 27, 2020
By Pauline Adamek
With her sweet, shy smile, trendsetting lavender-hued hair and style savvy, Kelly Osbourne is so much more than a TV presenter, fashion designer and celebrity personality. Open about her years of struggles overcoming substance abuse, the 31-year-old has become a role model for her generation. Recently, Osbourne was honored by the Peggy Albrecht Friendly House with its prestigious Woman of the Year award.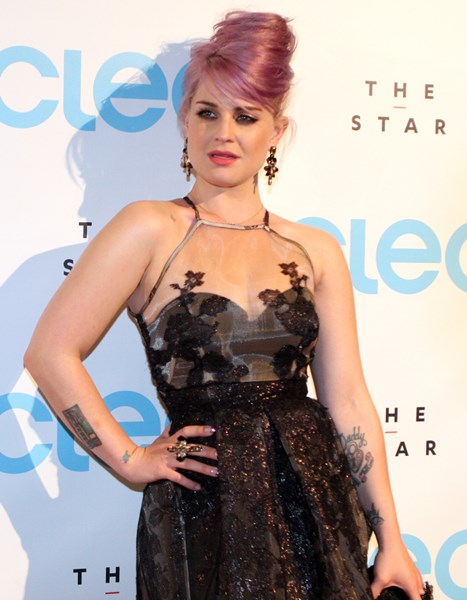 Daughter of rocker Ozzy and band-manager-turned-TV-presenter Sharon Osbourne, Kelly Osbourne has been in the public eye for most of her three decades. But she's handled  challenges gracefully, making her an inspiration to her many fans the world over.
Osbourne's childhood was a nomadic one, traveling with her family as her father toured with his heavy-metal band, Black Sabbath. Osbourne gained the public's attention during the early 2000s when she appeared on the MTV reality show about her family, The Osbournes. Foul-mouthed and outspoken, Osbourne's frank, no-nonsense personality attracted viewers.
Osbourne has since parlayed the series' success into a career that has put her in the recording studio, sparked a clothing line and created additional television opportunities, including ABC's Dancing with the Stars, where Osbourne came in third place. For several years, she was one of the style mavens on the hit E! TV show Fashion Police, where she co-hosted alongside Giuliana Rancic and the late Joan Rivers.
She has been open about her addiction to painkillers and voluntarily entered rehabilitation facilities seven times between 2004 and 2009. During that time, Osbourne admits to drinking heavily and frequently taking drugs. She has said that at the height of her addiction, she was swallowing 60 Vicodin tablets a day.
With her life back on track, Osbourne has been open about dealing with her demons. "I've been to rehab seven times and to two mental institutions," she told Cosmo magazine in 2013. "My mum even had me put in a padded cell once to scare me, but like a brat, I just sat it out until she said, 'Well, that's not going to work.' But what I've learnt is that no amount of therapy or medication is going to work unless you want it to. Until you want to be a good person, you will never be one."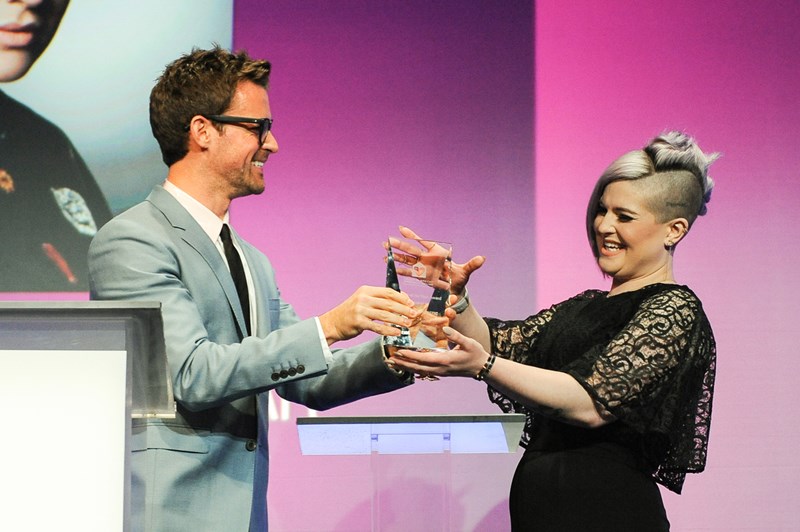 During the luncheon, Peggy Albrecht had nothing but praise for the woman selected for this year's tribute: "What a delightful young lady. Kelly is a great icon for the young women in Friendly House to see and be able to say, 'I can do that, too.' "
Osbourne selected Survivor's "Eye of the Tiger" to play as she advanced to the lectern. Upon receiving the award, a humbled Osbourne spoke from the heart.
"First and foremost, I have to thank somebody who is a force to be reckoned with, someone without whom I would not be standing here today. Many women in this room would not be here today if it wasn't for Peggy. It's really nice to know that I can be myself and say whatever I want, and she does not judge. And trust me—I have a foul mouth, as I am sure you know.
"When I heard that I was receiving this award, at first, I thought, 'I'm not worthy. I'm not worthy.' I'm not even in the program, even though I have applied those principles to my life. Peggy sat me down and told me it wasn't about that. It's about the work that you do to show people that there is a way out and there are places you can go to get help. To me, Friendly House is that place.
"It's hard for me to accept an award for Woman of the Year when every single woman that is in this room that has been through the Friendly House program. To me, you are the winners. You're doing it. You're making a change, doing the work that it takes, and standing up and admitting you have a problem and asking for help. When I was growing up, that was such a hard thing for me to do. Looking back on my life and all the mistakes that I made, I couldn't ask for help—ever."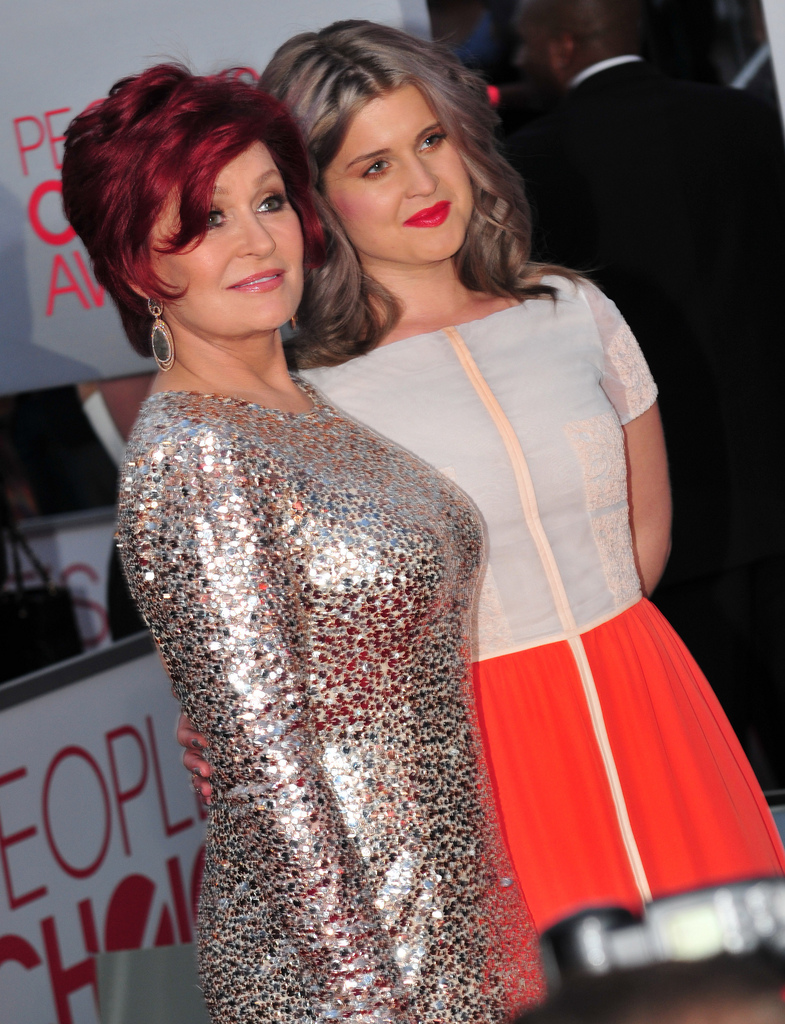 Osbourne shared an anecdote about how her father hid his drugs in the oven because it was the last place her mother would ever look. Pretending to address her mother, Osbourne joked, "So that's why I ended up in rehab, Mum, because you never cooked us dinner!"
But she quickly added, "But no, it was me and the choices that I made. My mum has been with me through every single rehabilitation center and mental institution that she sent me to scare me. To be in a room today with several hundred people that are all here to support each other and know what it's like to be in this awful bind where you sit there and think, 'The only relationship I have is with my pizza delivery man so I won't leave my bedroom and I hate myself and everything I stand for.' To be standing here today as somebody who no longer hates herself. Yes, I have flaws, but my flaws and my weaknesses became the foundation of who I am. You cannot learn without making a mistake. I made a lot of them, and I learned from a lot of them. I thank all of you so much for the support that you guys have given my family and me. Thank you."
Celebrity fashion stylist Brad Goreski emceed the 26th annual awards luncheon at the Beverly Hilton Hotel, which was attended by close to 500 guests and supporters. Singer-songwriter Moby was awarded the Man of the Year award (in absentia), and Los Angeles City Council President Herb J. Wesson took home the Excellence in Service award. Past honorees include Kelly Meyer, Oscar De La Hoya, Anthony Hopkins, Russell Brand, Viola Davis, Quincy Jones and Sumner Redstone.
Friendly House: Helping Women in Recovery Since 1951
One of the longest-running recovery homes in Los Angeles, the Peggy Albrecht Friendly House was founded in 1951 and was the first home in the country for women recovering from substance and alcohol abuse.
They have successfully treated thousands of women, boasting a success rate of 76 percent compared to the hospital average of 35 percent. The organization is solely supported by private donations and grants and by the fundraising efforts of the board of directors and Grateful Hearts, former residents of Friendly House.
For more than 30 years, Executive Director Peggy Albrecht has been the organization's guiding force. As her own sobriety began more than 44 years ago, she has firsthand knowledge of what it is like to overcome alcoholism. Since then, she has devoted her life to the service of others and has helped thousands of women recover with dignity and purpose. Her unwavering dedication was recognized in 2013 when Friendly House was formally renamed Peggy Albrecht Friendly House.
Peggy Albrecht Friendly House owns two residences. The Peggy Albrecht Friendly House, a seven-bedroom home built in the early 1900s, is located in the center of Los Angeles and houses 16 residents. In 2001, the William Shatner Family Foundation donated a second house in honor of the actor's late wife, Nerine. Located in West Los Angeles, it is a five-bedroom home and accommodates 11 women. Both houses are overseen by a staff that provides full-time supervision and the skills needed for genuine recovery. 
"Recovery is only part of who we are," Albrecht says. "We are leaders in helping women economically become self-sufficient. We focus on character building and access to affordable housing. Women are human capital waiting to be cultivated, and at the Friendly House, we hold them to high standards. We accept women of all ages, all walks of life. If you have an addiction, we are there for you."
Related: