May 27, 2020
How will I get my addiction medications during this pandemic?

My recovery meetings are canceled. How can I find support?

I'm worried. How can I connect?
We are in the midst of some anxious times.
Every American is impacted by the COVID-19 (coronavirus) outbreak. And people affected by addiction face unique challenges.
Your health, safety, and comfort are our biggest priorities. Here's some information to help you navigate through this.
Maintaining treatment access
Addiction patients should not lose access to their lifesaving care right now. Treatment has to be provided in ways that are safest for both patients and healthcare workers.
The Substance Abuse and Mental Health Services Administration (SAMHSA) has recommended that Opioid Treatment Programs (OTPs) in every state provide patients with take-home medication. Shatterproof has been reaching out to state leaders to offer our support in following these recommendations and increasing telemedicine access.
Virtual recovery support
Social distancing doesn't have to mean skipping out on your support. In The Rooms is a great place to find a virtual meeting. Check out the infographic below from Recovery Research Institute for more resources.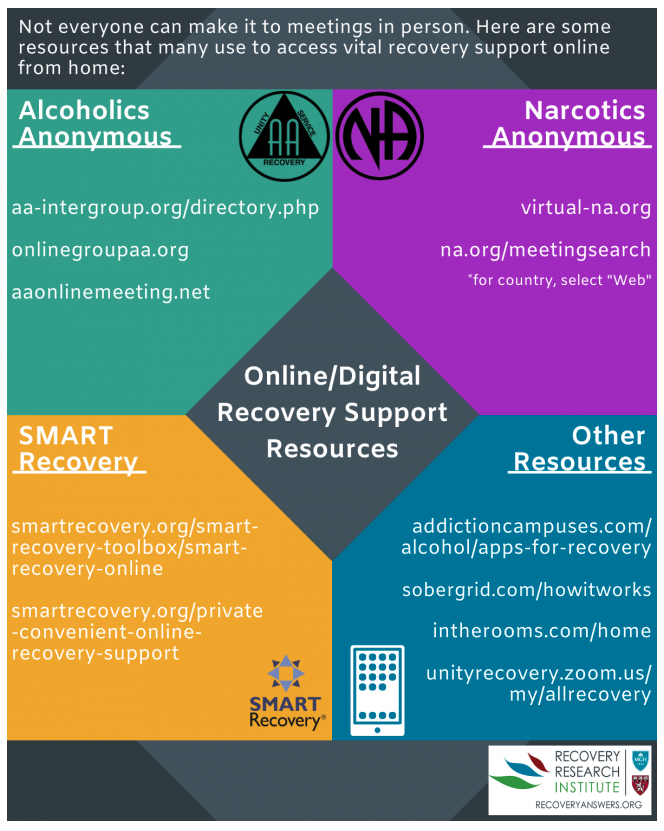 Join the conversation on social media
We're on Facebook, Twitter, and Instagram, and we'd love to hear from you. Add a comment, share our posts, and find comfort in conversations with others in the community.
Share your story
Got down time? Create a memorial or celebrate recovery.
Recommended reading from the Shatterproof blog
Stay safe. Stay supported. Stay Shatterproof.