May 4, 2012
Previously published in Renew magazine
By David Moran
The stereotype is older than Animal House: College campuses run amok with partying undergrads, alcohol in hand.
That image is no comedy for the scores of would-be students who want to attend college or university but who have been plagued by issues of addiction and substance abuse. With an environment as potentially treacherous as a college campus, the idea of enrolling can be daunting. However, there are an increasing number of campuses across the country that are developing collegiate recovery programs that provide a safe and supportive environment where students can succeed both in their continued recovery and in their academics.
"We need to find places for those seeking long-term recovery in an academic setting," says Monique Bourgeois, executive director of the Association of Recovery Schools. It's what's at the heart of the recovery campus movement across the country: offering second chances to people whose college efforts may have been derailed by addiction and first chances for students looking for a way to continue their education without sacrificing their recovery. It's about turning a potentially dangerous environment into a place for opportunity and growth and making college available to everyone.
"Without this program, I don't think I'd be able to go to college and feel like I had a good chance of being successful," says Ashley, a student at Texas Tech University. With a 4.0 GPA, she's well on her way to a degree and a fulfilling college experience. And she's stayed sober.
The success of students such as Ashley is a sign of hope for those in recovery trying to find a place in higher education, whether they're high schoolers looking at college for the first time or adults who are finding their way back. It's a movement on the rise—and for good reason.
Expanding Campus Programs
As recently as 10 years ago, there were no more than a handful of campus recovery programs across the country, and the only major ones were at three schools: Augsburg College in Minnesota, Texas Tech and Rutgers University in New Jersey. Since then, the movement has blossomed nationally, and there are now more than 20 schools with defined programs.
Much of this growth can be attributed to an increase in federal funding that was aimed to develop both a curriculum and new programs themselves. Also, increased awareness of the vulnerability of adolescents for relapse has galvanized the recovery community to create effective higher education models. New approaches are emerging as well; the Hazelden organization, based in Minnesota, is set to open a collegiate recovery residence in the heart of New York for students enrolled in any school in the city. Depending on the success of the endeavor, Hazelden may try to open more such residences around the country.
In general, collegiate recovery communities offer support and assistance but not treatment. They are intended for individuals who have already completed treatment plans or who have otherwise stopped using and are engaged in the ongoing process of recovery.
The recovery communities help to facilitate and encourage that process by hosting Alcoholics Anonymous (AA), Narcotics Anonymous (NA) or similar meetings on campus and may also employ drug and alcohol counselors who are at students' disposal. Most programs require individuals to apply for acceptance, and one of the most basic requirements is that they have been clean and sober for a predetermined amount of time (typically six months to a year).
The Rules
Most campus recovery programs have ongoing requirements for their students while they are enrolled in the program. Some schools seek to provide a lot of structure for their students while others are less strident. For example, the StepUP Program at Augsburg College, which is one of the most well-established recovery communities in the country, is also one of the most structured. A residential program, StepUP requires that all students live under one roof and follow predefined schedules. Each week, students are expected to meet with a licensed counselor, attend a group meeting with other StepUP members, meet with the residents on their floor, attend at least two AA/NA meetings and keep in touch with their sponsor.
And that's just what's required; the StepUP program offers (and encourages students to participate in) three service opportunities per week. Students volunteer to speak at high schools, treatment centers and conferences. It's a thriving aspect of the program: During the 2009-10 school year, students spoke at more than 300 events.
The Center for Students in Recovery (CSR) at the University of Texas, Austin, has a different approach—it is meant more as an open and accessible resource for students and requires little in the way of preset schedules. Instead, there are meetings every day and a space available for students to speak with the program's administrators, who are also licensed counselors.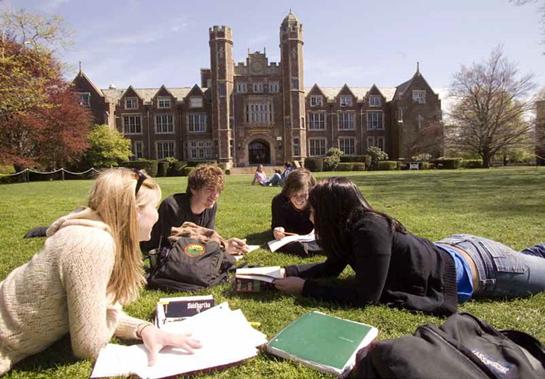 A Safe Space
The importance of a safe haven for students in recovery is a common theme throughout the campus recovery community.
"The students appreciate having a dedicated space," says Teresa Johnston, director of the Center for Young Adult Addiction and Recovery at Kennesaw State University in Georgia. This is especially true at a place such as Kennesaw State, where much of the student population commutes. "It really provides the students a connection to campus," says Johnston.
At Texas Tech, Collegiate Recovery Community (CRC) students have access to a controlled space in the basement of an academic building where there is entertainment and study space, from pool and Ping-Pong tables to a computer lab. "At any given time you can go there," says Ashley. "It's a really great place to be on campus."
As in CRC's case, such a shared space provides a sense of security and community. Both Patrice Salmeri, the program director for StepUP, and Kitty Harris, director of the Center for the Study of Addiction and Recovery and head of the CRC program, hold very similar views about their respective programs, considered two of the best in the country.
"If you boiled it down to one word, it would be 'community,'" says Salmeri. She believes that many students looking for a recovery community in college have been through some hard times already and that they may have lost something along the way in their relationships with their peers. "Now they get to learn what it's like to care about somebody … and what it's like to have friends who care about you."
Harris has a parallel attitude. "The single most important factor of our program is that it's about community." She says that facilitating an "alternative peer group" for her students helps them succeed both socially and academically.
For Ashley, that sense of community has been great. "Before you even get here, there are people who are excited you're coming," she says. "It's pretty cool to have people who are there for you."
At Southern Oregon University's Community of Recovery in Education (CORE), the largely older student population designs their own social activities to fit their interests, from family-friendly events to retreats. "Students who engage in the recovery community are engaging outside of the structured meetings," says Coordinator Taylor Burke. At CSR at UT, the administration does a little more social planning.
One of their main goals, as Todd Maison, the program's coordinator says, is to facilitate a "genuine college experience free of alcohol and drugs." Maison and the program's manager, Ivana Grahovac, have organized functions such as volleyball and bowling and have even implemented a campuswide event that both raises awareness about the program and is a fun time for the students.
"This is my primary social crowd," says Wylie, a student at UT. "It's been huge socially for me. … I didn't know anyone when I came." He says that CSR "has given me that extra social and service aspect."
How to Choose?
With all the different types of programs available, choosing the right one might feel intimidating. "Any transition time is difficult at best for any student," says Bourgeois. "When you add in the recovery component, [students] can be vulnerable."
Part of deciding which campus recovery program is best for the a student is, of course, deciding which college or university itself is best for him or her. There are recovery communities at schools is diverse in size, location and academics. Bourgeois points out that sometimes the most basic question is how close a student wants to be to home.
And any student seeking a recovery program has to make sure that the program itself is a good fit. Harris advises prospective students to visit several programs, if possible, to get a feel for the community and ask themselves, as she puts it, if "this community is a place where they're comfortable and feel that their recovery can succeed."
Salmeri adds, "The first step is knowing what your needs are." This can mean figuring out whether the student will do better in a more structured setting or how much social programming or academic support he or she wants.
In the end, deciding on the right program comes down to the same process as deciding on a college or university: weighing the advantages and disadvantages of each place and preparing oneself to be adaptable to the circumstances. After all, students who utilize these campus recovery organizations are no different than their peers. They just have something more to protect—their sobriety.
"This is something I've worked so hard for, and I'm proud of it," Ashley says. Recovery campuses can help make sure that the work is not lost and that those who are doing it can continue to learn.