December 13, 2011
Chef Liz Scott shares ideas for sober celebrating, with a twist
By Kelly O'Rourke Johns
There's something refreshing about Liz Scott. It might be her bubbly laugh, the kind that builds from within and floats up to the surface in merry bursts. Or the delightful and delectable combinations of tastes and textures she builds into her recipes. Or it simply could be the effervescent approach to life this businessgal-turned-celebrity-chef embraces.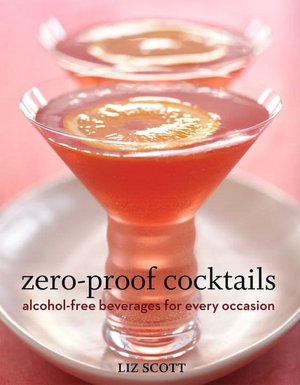 The French Culinary Institute-trained author of the definitive guide to alcohol-free cooking,
The Sober Kitchen: Recipes and Advice for a Lifetime of Sobriety
, produced another standby,
Sober Celebrations: Lively Entertaining Without the Spirits
in 2007 and followed up with
Zero Proof Cocktails
in 2009. In these creative works, Scott, now 12 years sober, introduced a new concept in partying alcohol-free. Mainly, that it could be fun.
"Everybody remembers her first sober party," Scott says with a chuckle. "What do you do? Do you eat? Talk? What's the point? It's all part of the process of getting back into some sort of normal life where people do get together for reasons other than getting high. At first, it's hard to believe there are people out there who do this all the time!"
What people do all the time is enjoy good company, exquisite food and great beverages and create a memorable experience without choosing to include alcoholic libations. For a recovering alcoholic, the very idea is nothing short of fantastical.
But all the skeptic need do is
crack open Sober Celebrations
to become a believer. In it, Scott offers sumptuous menus with beverage pairings that taste incredible and invite the celebration to the sober party.
"Just because we give up alcohol doesn't mean we've lost our taste buds," Scott says. "The question becomes, how do we substitute?" Her answer lies in the "little chef rules" associated with all entertaining: Pair dishes that are heavy on the palate with beverages that contain an element of acid. Lighter fare might require a more fruity drink. "It pretty much follows the same rules as wines," Scott says. "The fruity and acidic and smoky and oaky—whatever enhances certain characteristics in food."
In her 30s, Scott made the move from Bon Appetit's business department to train as a chef. She enjoyed working as a personal chef and caterer and being challenged by the dietary requirements of her clients. It got her thinking about how to do things differently. "Frankly, that's why I was so adamant [to introduce alternatives to alcohol-infused cooking and entertaining] when I went into recovery," Scott says. "I began to tell my clients, 'I don't cook with alcohol,' and most of them were just like, 'Oh, fine.'"
Scott also points out that the old myth that alcoholic ingredients burn off in the cooking process is just that. "The USDA did a study in 1989, and we know definitively that the alcohol does not cook out," she says, and she warns against using any ingredient that could trigger addictive behaviors. "Can a small amount get you drunk? Probably not. Can your brain cells recognize it? Absolutely. You may think it doesn't matter to you, but it does. Why tease the tiger?"
Ask her about the protocol associated with inviting alcohol-drinking guests to sober affairs, and Scott gets downright defensive. She scoffs at the notion that anyone in recovery should feel obligated to provide alcoholic beverages at their gatherings.
"Whatever protects your sobriety, it has to be number one." Instead, she suggests an honest approach to inviting revelers. "You should embrace your sobriety, and everyone you know should know about it because those people will become your support system and will know what you're grappling with. Let your guests know alcohol will not be served, and allow them to bring a non-alcoholic drink of their choosing if they like."
Then serve your guests a Scott menu they'll not soon forget. From the aromatic Pomegranate Ratafia appertif paired with Sicilian Olives, Taralli and Asiago Nibbles to the zesty Pineapple Lemonade Spritzer paired with Indian-spiced Ratatouille, Scott's well-balanced and thoroughly palate-pleasing concoctions will have all your guests vying for future invitations.
But you don't have to get fancy to have fun. A Chef Scott standby? "I'll buy a good quality blend of anti-oxidant juices, such as pomegranate, pour just a little bit (½ cup) in a tall glass with ice and top it off with club soda. Not too sweet, not too many calories and very refreshing." 
Very refreshing, indeed.
Recipes to Save
Mocktails are a popular alternative to alcohol-infused cocktails, but the potential associations could be a trigger in early recovery. "We shouldn't limit ourselves to that," says Scott, who likes to experiment with different ingredients that mimic their alcoholic counterparts. For example, "teas have the tanic qualities of some wines." If you feel an alcohol-free copycat has you yearning for the leaded version, refrain from the mocktail and instead enjoy a Liz Scott original. Here are two Chef Scott beverages worth celebrating.
Pineapple Lemonade Spritzer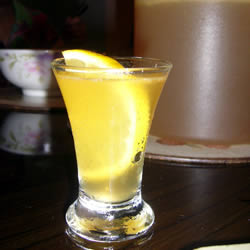 Ingredients:
6 cups pineapple juice (canned or fresh)
Juice of 6 large lemons
2 cups granulated sugar
1 cup honey
Two 2-liter bottles of club soda or sparkling water
1. In a medium-size saucepan, combine the pineapple and lemon juices, as well as the sugar and honey, and bring to a boil over medium heat, stirring occasionally. Cook for 1 minute, remove from heat and transfer to one or two heat-proof jars. Cool, then chill in the refrigerator several hours or overnight.
2. To make the spritzers, fill a 12- to 14-ounce tumbler with ice, add about ¼ cup of the syrup and stir in the club soda to fill. Serve immediately. Serves 6.
Cranbernet Sauvignon
Ingredients:
1 cup black currant juice
½ cup unsweetened cranberry juice
½ cup "no sugar added" red grape juice
½ cup plain seltzer
1 ½ tablespoons balsamic vinegar
1. Stir together all ingredients in a glass pitcher.
2. Allow to sit for 15 minutes at room temperature, divide between two 10- or 12-ounce wineglasses. Serve immediately. Serves 2.
Liz Scott is a professional chef and caterer, in recovery from alcohol dependence, who has used her experience and expertise to specialize in the positive effects of good food on recovery. She is available for consultation and presentations and can be reached at [email protected].