May 27, 2020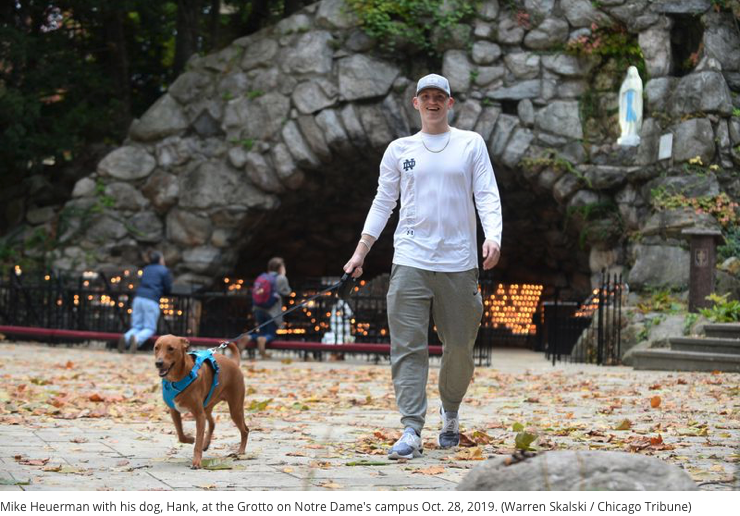 Mike Heuerman rides up on his bicycle and immediately jokes about being a 25-year-old undergraduate at Notre Dame.
"I'm the oldest mofo on campus," he says.
Heuerman is headed to lunch at McAlister's Deli. He could chain his Schwinn to a pole but instead leaves it freestanding on North Eddy Street.
"If someone steals it," he figures, "it would serve me right for all the stuff I did."
Heuerman is headed to lunch at McAlister's Deli. He could chain his Schwinn to a pole but instead leaves it freestanding on North Eddy Street.
"If someone steals it," he figures, "it would serve me right for all the stuff I did."
Heuerman (pronounced HIGH-er-man) is a lean 6-foot-4, with a gold chain hanging over his white Under Armour long-sleeve shirt. His blond hair is close-cropped under a baseball cap that says "Grey Oaks," the country club in Naples, Fla., where his family plays golf.
He orders a ham-and-turkey sandwich and an iced tea. He sits and fidgets. His legs bounce. He turns his cap backward, then forward.
Amid the nervous energy, he recalls a proud moment from his fantasy football draft when he snagged a player his fellow owners didn't know.
"Going to be a steal," he told them as he selected the Raiders tight end.
Who? the other owners asked. Darren Waller?
Heuerman had a special bit of intel. He had watched Episode 3 of HBO's "Hard Knocks," during which Waller spoke of finding sobriety after "getting high like literally every day" while with the Ravens in 2016.
"I know what being completely clear-minded can do for every aspect of your life," Heuerman says.
And then he talked a little trash.
"In two months," he told his fellow owners, "you'll be trying to trade your best running back for him."
Injuries robbed Heuerman of his Notre Dame career and led to his darkest hours, but he does not blame football.
Football gave him natural highs. It gave him access to coaches such as Urban Meyer, Jimbo Fisher and Brian Kelly. It gave him purpose, structure and friends. It gave him entry to an elite university. And it provides the livelihood for his older brother, Jeff, who plays tight end for the Broncos.
Heuerman doesn't blame anyone or anything for what happened to him. This story has no bad guys. Maybe that's what is so jarring about it.
Heuerman grew up as a smart, social, athletically gifted kid in an alcohol-free home with loving parents and supportive siblings.
He raves about the doctors who got him through six hip and core surgeries in two years. Unlike so many Americans caught in the web of addiction, he says he was not overly prescribed.
Heuerman has nothing but appreciation for Notre Dame, which honored his scholarship and allowed him to return after he received an academic suspension.
You've heard this about drug addiction: It can happen to anyone.
And it can happen quickly.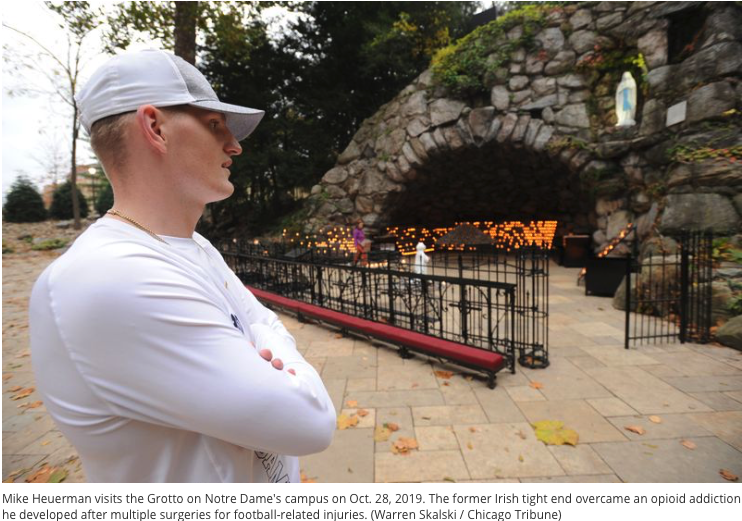 Heuerman went from a promising tight end lighting up rooms with his energy to a slacker sleeping until the afternoon.
"What are you doing?" best friend and Notre Dame teammate James Onwualu would ask. "This is our one day off."
"Bro, I'm too zombied right now," Heuerman would reply.
More surgeries led to his ingesting more little blue Percocet pills. And that created more distance between him and his family.
"The toughest time as a dad," Paul Heuerman says, "is when you're talking to your son and it's not him. It's like somebody else is in his body."
Heuerman at one point considered himself a drug addict "with standards." No meth, no heroin. Before long he was snorting a substance he didn't even know. One day while he was passed out on the floor, his roommate kicked his foot and asked, "Mike, you good?"
Heuerman almost lost everything. He almost died.
His life turned on the day he drove eight hours to the Hazelden Betty Ford treatment center in Minnesota and turned in his phone.
Rehab saved him, and now Heuerman is stronger than ever. He is loaded with gratitude as Thanksgiving approaches and full of advice for kids and parents.
He will be two years sober Dec. 8 and weeks from earning a management consulting degree from the Mendoza College of Business.
Ask about his class called strategic business technology, and Heuerman beams while discussing the rise and fall of companies such as Blockbuster and Netflix.
"I get excited about class now; it's weird," he says, smiling. "It's weird how life happens, you know?"
Heuerman reads a text message from his favorite all-time coach, Tony Alford: "I just want to tell you how ridiculously proud I am of you … I'm in tears … I love you, man. Always have."
Alford coached Notre Dame receivers when Heuerman arrived on campus in 2013. Now he coaches running backs at Ohio State, and his wife, Trina, sends peanut butter treats for Heuerman's treasured dog, Hank.
"I love that family," Heuerman says.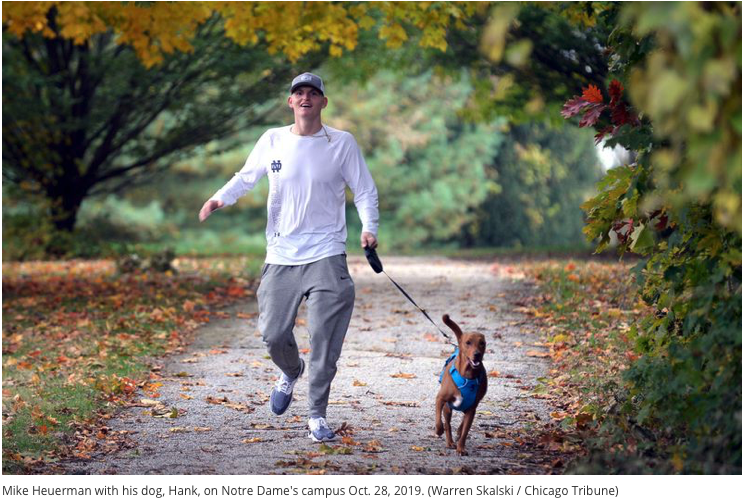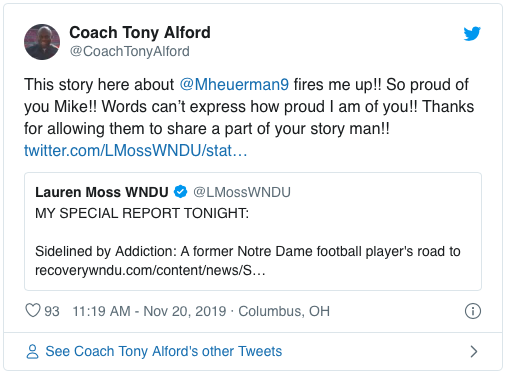 Mike and Jeff got size from their dad, who is 6-foot-9. Paul captained Michigan's 1980-81 basketball team and once guarded Magic Johnson in an exhibition game.
"Magic scored like 53; I had 11 points," Paul says. "I played out of my mind!"
He settled in Naples after earning a law degree from the University of Florida. Football is king in South Florida, but Jeff and Mike favored ice hockey until high school.
Jeff was the nation's No. 20 tight end prospect in the Class of 2011, per the 247Sports.com composite rankings, and considered Michigan. But he chose Ohio State, knowing that Michigan was about to fire coach Rich Rodriguez.
Two years later Mike emerged as an even more promising prospect, eighth nationally among tight ends with a fantastic highlight tape.
He and a buddy from Fort Lauderdale attended Ohio State's 2012 spring game. Joey Bosa committed. Heuerman held out. His heart was elsewhere.
And that's how the oldest sons of a former Michigan athlete ended up at Ohio State and Notre Dame.
Jeff jokes now about the reason: "We play the same position and he was a little smaller, faster and quicker — more of a receiving type. It would have been kind of awkward having your little brother steal your spot. … 'Hey, Notre Dame looks good. Check it out!' "
Jeff went on to captain the Buckeyes' 2014 national championship team.
"Jeff Heuerman," Meyer says, "is like a son. Mike was very talented and very athletic. And the family is as good as it gets."
At Notre Dame, Mike struggled to put on weight despite trying to consume 6,500 calories a day. He says he was in "blistering pain" as a freshman in 2013 with what doctors initially diagnosed as a hernia. Turned out he had fractured his right hip in high school and completely torn off the cartilage.
Heuerman got his weight up to 230 pounds before his second season but was in such pain, "I remember sitting on the bench in front of Touchdown Jesus and just breaking down."
As his left hip compensated, his core muscle tore away from his pubic bone. Eventually he had to have both hips operated and re-operated on, ending his football career.
He went on medical scholarship at Notre Dame but couldn't focus or even sit comfortably in class. And he no longer could introduce himself this way: "Hi, I'm Mike. I play football."
Depressed and in physical pain, Heuerman became more dependent on painkillers such as Oxycodone. The U.S. Department of Health and Human Services reports that in 2018, 2 million Americans misused prescription opioids for the first time. More than 47,000 died from overdosing. That's more than 130 people a day.
As Heuerman withdrew from normal activities, failing to return calls and texts from family members, they grew worried.
"A lot of nights you lie in bed," Jeff recalls, "and you're scared."
Heuerman says of the effect of the pills: "Your body feels incredible. It's tingling. But it takes away all the stuff that makes you human. I lost the things that drive me, my passion."
And once Heuerman got hooked, getting high was all he could think about.
"If I had to go to lunch with you, there would be A, B and C to do before I would show up," he says. "And if I didn't have A, B or C, I wouldn't be here. You wouldn't hear from me. It was terrible."
Rock bottom came in early December of 2017. Heuerman already had been in rehab once, ordered by his parents. He spent the minimum four weeks in care at the Hazelden clinic, and the cravings returned.
"I usually don't even talk about this, but I don't mind telling you the whole story," he says. "Usually I just say I went into a very (expletive) dark place. It's good for me to revisit because I see the depths of that darkness."
A wealthy female neighbor gave him $1,000 to purchase 40 potent pills. He kept half of them.
"I knew a dealer and we developed a relationship because I was pretty much paying the entire rent and for everything in the apartment, their food, their video games," he says. "Like, 'Hey, here comes Uncle Mike.' It was tragically hilarious."
The guy who swore he never would do meth or heroin did heroin. Twice. By smoking it.
Finally on the morning of Dec. 8, he felt so disgusting, he got in his Chevy Silverado and drove more than 500 miles to the Hazelden clinic, promising family members he would follow every rule and stay as long as it took.
"The first time, we made him go," Paul says. "The second time, he wanted to go. He was really scared for his life. He said: 'I don't want to die. I don't want to maybe go to jail. I'm better than this.' Somewhere inside, Michael had that strong inner fortitude, that passion for life."
Jeff Heuerman was 22 the first time he saw his dad drink a beer.
The Heuerman home was alcohol-free because of what happened when Paul was 17. He lost his 19-year-old sister, Kristine, to a drunk driver.
"There wasn't the awareness then," he says.
Paul sees parallels to the American opioid epidemic. Now he knows what these pills, when abused, can do to people. To families.
"A doctor I spoke to said, picture this: There are two parts to the brain," Paul says. "The front part is telling you that you need that drug like you're in the desert and the drug is the only thing that will give you water. The other part of the brain is asking: Who am I? What am I doing to myself?"
As Mike descended, his tightest relationship became unglued. By now Jeff was living in Denver, trying to establish himself in the NFL. 
Jeff understands better than most what these pills can do.
Late last season, the 254-pound tight end suffered a punctured lung and broken ribs. The pain was so intense, doctors prescribed a painkiller/sedative combination that would allow him to relax enough to breathe deeply. He was hesitant, given Mike's experience, but the doctors were adamant.
Jeff took the medications at the Broncos complex and had a trainer drive him home. The next day, he could not recall getting a ride.
"It's scary," he says. "You get in this fog."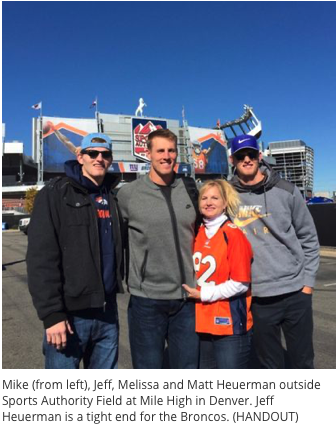 Jeff will be in Denver for Thanksgiving, awaiting the birth of his first child while preparing for Sunday's visit from the Chargers.
Mike and younger brother Matt, an aspiring pro golfer who also played some football at the University of Toledo, will head to Grosse Pointe, Mich., for Thanksgiving.
Paul and Melissa Heuerman remain friends after divorcing 10 years ago. She will host a meal with her fiance's family for nearly 50 people.
"They all love Michael; he takes a special interest in everyone," Melissa says. "He remembers their names — and their dogs' names. He lights up a room."
Per tradition, she will go around the table and make everyone say what they are grateful for. This much she knows: The tears will flow.
Heuerman and his companion are on Notre Dame's campus, walking to the Grotto. Actually his companion is trotting. Hank is a 50-pound golden/red lab mix whom Heuerman rescued at 8 weeks from Secondhand Hounds in Minneapolis.
"He rescued me," Heuerman says.
Hank requires him to be responsible.
Says Melissa: "Hank gave him total structure: I have to be home. I can't stop for a burger or a movie. Michael was so used to that structure from playing football, and then all of a sudden, he had none. Hank's a godsend. He has separation anxiety when Mike is gone, and that's good."
So there's one piece of advice for recovering addicts. Heuerman and his family have several more.
"You don't need these strong opioids for many injuries," Mike says. "That's why they make Tylenol. Look at non-addictive options. They help with the pain but won't (mess) with your mind.
"Fight for yourself. Know there's so much more to life than chasing the next high. Don't give up on your loved ones because I literally would not be alive today if it weren't for my family. My motivation was to be the person my family and brothers would be proud of."
Heuerman is an enormous advocate for the COR-12 program at the Hazelden clinic. It combines the traditional 12-step recovery and clinical therapy with prescribed medication, such as Suboxone.
Dr. Marvin Seppala helped develop COR-12 as the foundation's chief medical officer.
With relapse rates for opioid addicts as high as 50% to 90%, Seppala says, he advocates for the use of medicine with "the human connection from peers in group settings and (sessions with) therapists and counselors. Addiction is a disease of isolation."
Heuerman technically lives alone. But Hank is almost always by his side, nuzzling him when Heuerman fills his spare time by reading. He favors Vince Flynn political thrillers.
Heuerman says getting Hank, named by Heuerman's Minneapolis-based therapist, Dr. Courtney Gundrum, was "the best decision of my life."
Jeff says his advice to relatives of addicts is this: "Understand it's a sickness. They don't even comprehend the choices they're making. There is a big, gray cloud in their head. You get angry, you get sad. You go through this roller coaster of emotions. But you cannot give up.
"The rehab, it takes professionals. It's like tearing your ACL. You cannot fix it on your own."
Jeff, Paul and Melissa all swear that Mike has changed his life. Not one is concerned he will relapse.
"The rational part of the parent would say yes, but I don't," Paul says. "I know how committed he is. How grateful. He has an appreciation for life and health that you don't get unless you've been through difficult times.
"It's like guys who came back from World War II and feared nothing in business. They knocked it out of the park because they already had been somewhere bad. Unless you had that drug take hold of you like it did with Michael and then resurface and come back out alive, you have a perspective that very few have."
Before he stepped down as Ohio State's coach after last season, Meyer says he pushed the school's athletic department to re-examine how it medicates injured athletes.
"We used to give like 30 opioids, and the average person takes four to five — so there are 25 sitting in the medicine chest. And they're refillable," he says. "We changed all that. If you want more, you have to get more."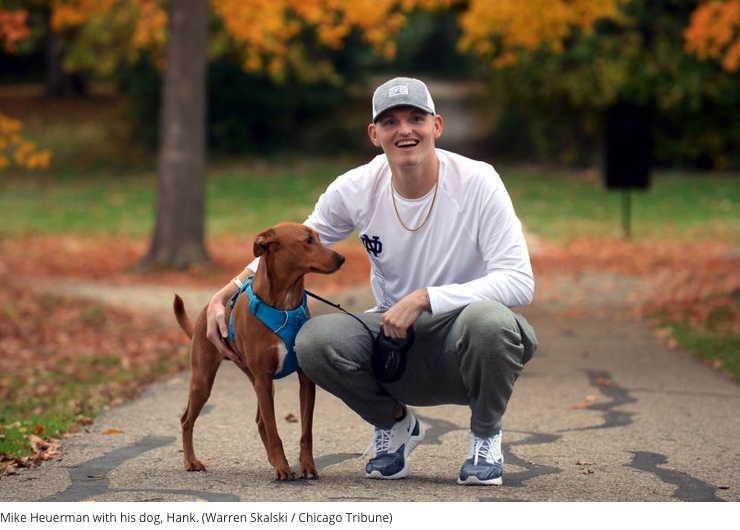 Heuerman says his only regret is not realizing sooner that sobriety is "the entire answer to my life."
Though alcohol was never an issue for him, he pledges never to so much as sip a beer because "when you see what opioids did to me, why would I even dance with that devil?"
And as we turn and walk onto Eddy Drive, Mike notices something — his gray Schwinn with the 24-inch frame.
"Oh, man," he says. "It's still here."