January 25, 2012
Spa vacations that won't stress your savings
By Aabha Rathee
Oh, the simple pleasures of life: a snuggly blanket, a steaming cup of hot chocolate, a crackle in the fireplace on a snowy night and a week-long trip to a spa resort. Yes, you read that right. A chance to soak tired limbs in mineral water while you wait for your customized aroma massage is a luxury you can afford!
Here are 10 spas across the country that offer a unique experience without requiring wholesale bites to your household budget. 
Ojo Caliente Mineral Springs Resort & Spa, New Mexico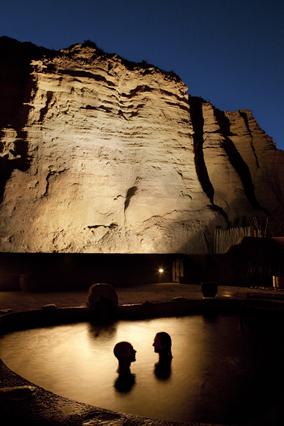 At 6,200 feet above sea level, not much comes between you and the twinkling stars on a clear night. It snows just enough in these upper reaches in northern New Mexico to bring a feel of winter without overwhelming you, and to warm you up, Ojo Caliente touts its kiva, or beehive-shaped fireplaces. A 143-year-old mineral spring resort, Ojo first became famous as a healing place for tuberculosis patients but is now a popular destination for Native American-themed spa treatments. Biking and hiking trails wrap around the mountains, chasing the cascading Ojo Caliente River. 
Try the Legends of Ojo massage, which features an Essence of Ojo body massage, a reflexology foot massage and Ojo herbal hot towels and lasts 75 minutes.
As with the massages, they also get creative with their food here, with Chef Neil Stuart whipping up treats such as coconut tres leches cake, goat meatballs, quinoa rellenos and green chile encrusted salmon.
"We don't feature 'spa food' necessarily, but the local (when possible), fresh (always) and inventive meals that we prepare seem to be even better when enjoyed after a good soak," says Ojo's Jennifer Hobson.
Location: Ojo Caliente, N.M.
Price: Lodging starts at $139 for double occupancy and includes springs access. Spa packages start at $124
Open: Year-round
Contact: 800-222-9162, ojocalientesprings.com
Kripalu Center for Yoga and Health, Massachusetts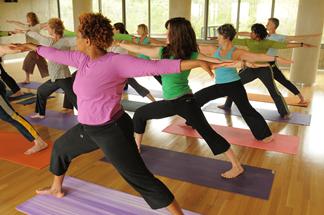 You might catch some white fluff in your hair, but Stockbridge's quaint, hilly charm is perhaps best enjoyed in the crisp winter air. Located in the wilderness of Massachusetts' Berkshires, Kripalu (kri-PAH-loo) is a yoga retreat in the mountains that offers everything from a simple massage to kayaking. They celebrate the winter a little differently here, combining yoga with outdoor sports. 
Its name is derived from the Sanskrit word krip, which means mercy. The first Kripalu center was started in 1972 by an Indian yoga student and later teacher in Pennsylvania. In addition to custom retreats, Kripalu offers specialty programs in yoga, dance, bodywork, Ayurveda, food and nutrition, qigong, self-care and intuitive development programs that can last more than five days.
"We have recently started to offer programs in positive psychology and blended on-campus as well as online learning," says Kripalu's Carol Bosco Baumann. One example: "Breaking Habits and Addictive Behavior: From Recovery to Self-Discovery" which will run from April 12 to 15.
Location: Stockbridge, Mass.
Price: Retreats start at $155 (value pricing for a shared dormitory room with a bath in the hall)
Open: Year-round
Contact: 866-200-5203, kripalu.org
Tennessee Fitness Spa, Tennessee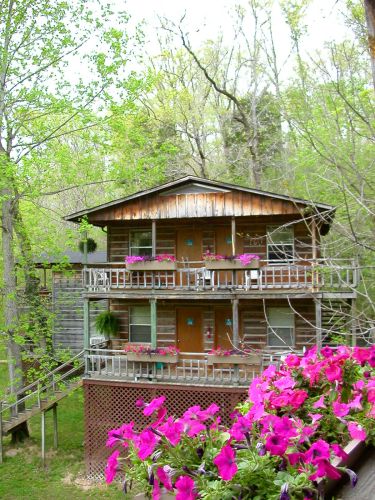 If chasing streams and disappearing into caves is your idea of a perfect holiday, head straight to Tennessee's Natural Bridge tree-dotted vastness. While you're there, make some time for pampering yourself at the super casual, no frills Tennessee Fitness Spa. Although largely a weight-loss program, the spa also offers reasonably priced hour-long massages, fitness assessments and a hot tub.
The spa is in a rustic, natural setting close to the Natural Bridge and boasts an ice cave that maintains a temperature of 58 degrees all year. The spa also offers referral discounts.
With weight loss a big part of their program, Tennessee Fitness Spa provides nutrious, low-fat, low-sugar meals. Don't pack your bags just yet, though. The spa is closed for three months in the winter, with the spring reopening scheduled for the first week of March.
Location: Waynesboro, Tenn.
Price: Weekly rates average $1,000 for standard double rooms; a one-hour massage costs $70
Open: March to November
Contact: 800-235-8365, tfspa.com
Affordable Spa, Merritt Island, Florida
Although not a destination spa, make sure you visit Affordable Spa in Florida's Merritt Island National Wildlife Refuge the next time you plan a trip to the Sunshine State, especially if you're the sporty type. Athletes form a large part of their clientele. "We have a unique view on spa and bodywork," says Affordable Spa's David Artura. "I understand the need to visit a spa to get away from it all. The world kicks your body around, and you want the getting-away kind of experience," Artura says. "We do have the music and the ambience that you would come to seek at a spa, but we treat it uniquely."
One such unique treatment is the neuromuscular therapy, which works on removing trigger points that cause muscle spasms and pain. There is also a sports version that uses proprioceptive neuromuscular facilitation stretching (a passive stretching technique) and neuromuscular therapy. Artura also touts their Zen Thai Massage, which is an assisted yoga decompressing massage. It involves a series of assisted stretching and deep compression muscle work, which helps in improving motion and overall flexibility.
Location: Merritt Island, Fla.
Price: Massages start at as low as $40 an hour
Open: Year-round
Contact: 321-452-0111, affordablespallc.com
Ixtapan Spa Hotel, Mexico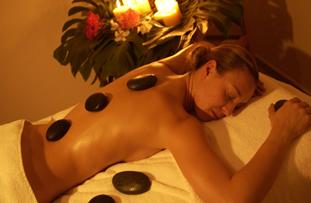 This is a trip that might need a little more planning than the others, but as the name of Mexico's municipality of Ixtapan de la Sal translates to "Waters of the Salt," a trip here becomes hard to resist. Hotel Ixtapan is a four-season resort that combines a stay at the hotel with a choice of its traditional or holistic spa packages. 
You get days filled with Swedish massages, reflexology facials, tennis lessons and pilates classes in the traditional version and oil and hot stone massages with tai chi and tae-bo lessons in the holistic package. "The hotel prices include all meals, all fitness classes, all spa treatments and all walks, and that's what makes this place so affordable," says Phyllis Stoller, the resort's spa consultant.
The food offered is mostly locally sourced with a little Mexican flair, though the cuisine is not completely Mexican. Think coriander and tamarind flavors or the choice of Oaxaca cheese as garnish. 
Location: Ixtapan de la Sal, Mexico
Price: Weeklong packages start at $1,492 for double occupancy
Open: Year-round
Contact: 210-495-2477, spamexico.com
Silverado Resort and Spa, California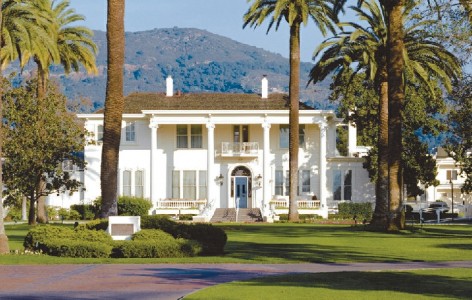 Fly high in a hot air balloon or go deep into tree fossils at the Petrified Forest and finish the day off with a Head 2 Toe soak—lavender scrubs and wraps and two different massages—at Silverado Spa, which stands hidden between the oak-lined fairways of two golf courses.
Swedish massages and aromatherapy are on the menu, but if you want a taste of everything, try the 25-minute massage medley that will leave your tired limbs lithe and you ready for a sumptuous meal designed by Chef Jeffery Jake. With not a cloud in sight, gaze at the golf course while you enjoy your meal made of organic and sustainable products.
Silverado is perfect for the golf fanatic, with two championship golf courses, a golf school and the special golf treatment package that includes a specialist massage.
Location: Napa, Calif.
Price: Spa treatments start from $65
Open: Year-round
Contact: 707-257-0200, silveradoresort.com
Deerfield Spa, Pennsylvania
Do you like your spa getaway with a little Victorian Romantic touch? You can get that any time at the Deerfield Spa in East Stroudsburg, Pa., but maybe the best reason to head there is for the Valentine's Day package. Deerfield Spa offers chocolate scrubs and wraps for Valentine's Day in addition to the sugar, salt, mud and seaweed treatments they offer year-round.
"We have special lounges for our day spa period where we continue to offer healthy spa meals and drinks like herbal tea," says Joan Wolff of Deerfield.
Come for the LED Therapy, which uses infrared light on the skin or the Lomilomi massage, the high-pressure Hawaiian technique.
Location: East Stroudsburg, Pa.
Price: Start at $935 for weekly double occupancy; day packages start at $185
Open: As destination spa from April to October; day spa year-round
Contact: 570-233-0160, deerfieldspa.com
The Spa at Mohonk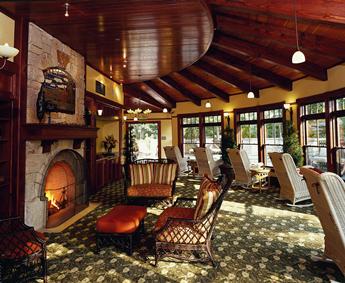 New York Picture dramatic cliffs that stare up at blue skies above and Lake Mohonk below, and then imagine soaking in a bath of balsam fir, pine and peppercorn extracts from the forest around you. Here you have the option of choosing from one of four couples massages or gift yourself some time with the stress buster and relief massages.
Trails that lead off into the forest, a Scottish-style golf course and a solarium are some of the other splendid indulgences offered. Although the hotel isn't cheap, all spa treatments are offered to day guests and come with meals. The proximity to New York City—it is 90 miles away—only helps. 
Location: New Paltz, N.Y.
Price: Spa treatments start at $75
Open: Year-round
Contact: 877-877-2664, mohonk.com
Green Mountain at Fox Run, Vermont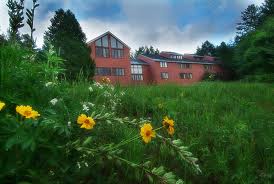 The small-town feel that the location of Green Mountain offers may only be matched by their comforting programs. Tucked on a hill and wrapped by a forest, Green Mountain is the place to go for that all-girls trip. The women-only resort specializes in weightloss and nutrition programs and offers massages, though the focus is on overall simple living.
There are special healing packages if you've had surgery or have suffered from a food addiction, as well as certain syndromes. Come with a large bunch, and share in the camaraderie of exercising together, eating together and learning how to change your busy lifestyle. The resort focuses on healthy living rather than diets that don't work.
If the winding trails around the hillside aren't enough to envelop you, indulge in more social activities with a host of festivals sprinkled round the year in the area.
Location: Ludlow, Vt.
Price: All-inclusive packages start at $2,208 for weeklong double occupancy
Open: Year-round
Contact: 800-448-8106, fitwoman.com
The Oaks at Ojai, California
Let the moon shine down on you on clear nights at Ojai—the valley was named from the Chumash word for moon. A selection of 12 different massages are offered at the spa, but if you're looking for something extra special, try the Fiji Lemongrass Tangerine Sugar scrub.
The spa also offers wellness consultations and body composition analyses, as well as 1,000-calorie-a-day meal plans based on specialist spa cuisine. Brisk hikes through the valley wilderness and kayaking at the famous Lake Casitas, site of the 1984 Olympics rowing events, will bring out the health nut in you.
Check out the calendar for special classes and events, as well as discount days.
Location: Ojai, Calif.
Price: Rooms start at $200 per night per person, and spa treatments start at $80
Open: Year-round
Contact: 800-753-6257, oaksspa.com