November 2, 2015
By Michelle Horton
What does it mean to thrive in recovery? Not to suffer through recovery, or survive being in recovery, but to succeed and thrive.
Here at Renew, we believe thriving in recovery means using our journeys, our internal change, to make a positive impact on the world around us. For the Fall issue of Renew, we found six extraordinary people who embody that idea. They come from different generations, through different avenues of addiction, and are at different points in sobriety. But they all have one thing in common: Each of them uses their recovery for a greater good. They all found meaning in their suffering, and now extend their lives and lessons to others. This series will share their stories.
"When I think of the word 'thrive,' I think of so much more than surviving."
Teri Griege
Ironman Competitor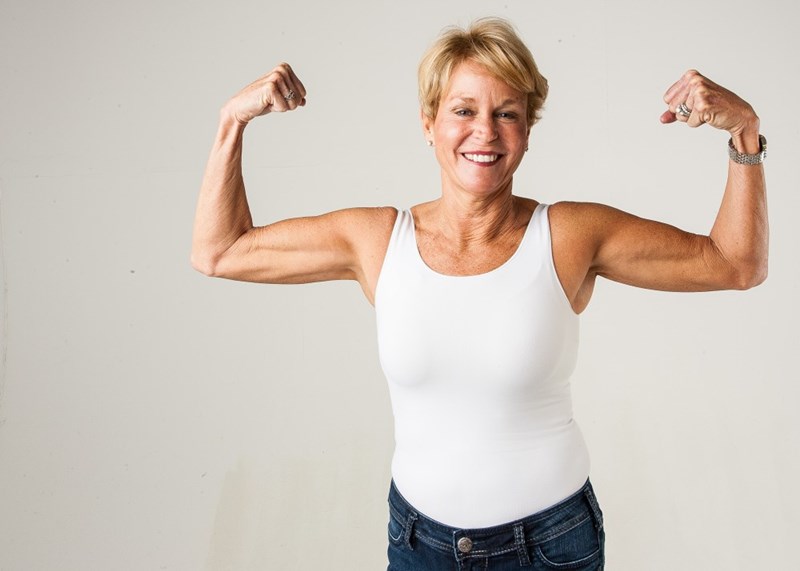 Some people get knocked down by life circumstances and never get back up. Teri Griege is not one of those people.
Griege is best known for completing the grueling Ironman World Championship at the age of 50 while undergoing chemotherapy for advanced cancer (her book Powered By Hope: The Teri Griege Story inspires millions around the world). But was fighting her first disease — alcoholism — that gave her the tools and wisdom to persevere through any struggle — even the struggle for her life.
Renew: How long have you been in recovery?
Griege:I've been in recovery for 22 years. My "recovery birthday" is March 27, 1993, and I've been in continuous sobriety, one day at a time, since that date.
Renew: Can you remember a specific turning point in your journey?
Griege:Prior to that date, I had two other periods of sobriety: one for 5 years, and another for a year and a half. However, there was a day in April of 1993 that I finally went from admitting that I was an alcoholic and addict, to accepting that I was an alcoholic and addict. In my heart and soul, I fully believed and understood that there was life on the other side.
On that day, I turned my life and will over to my higher power and experienced a peace in knowing all would be okay. It was my wake-up call. Prior to 1993, I would wake up and hit the "snooze" button again and again and again. But after that day, I'd hear that alarm and hit the ground running because I knew it was time to "wake up." And I continue to wake up and grow every day since.
Renew: Which tools and programs have been most successful in supporting your recovery?
Griege:First there's my higher power, whom I choose to call God. I also have an amazing and supportive family — my husband (who loved me when I couldn't love myself), children, mother, sisters and their families, and good friends.
Meetings, the 12 steps, and my sponsor play an important role, even after 22 years. I'm still taking life one day at a time.
Renew: What's been your biggest challenge or obstacle?
Griege:Recently, my biggest challenge is living with Stage IV Colon Cancer. I found out I had advanced cancer almost 6 years ago and was given a 5 to 10 percent chance for living 5 years. Although I never had an urge to use alcohol or drugs, the diagnosis definitely challenged and forced me to live the program.
People always ask how I live gracefully with my diagnosis. I tell them I have tools and an outline for living. I have an attitude of gratitude. I have faith, not fear. I believe in doing the right thing because it is the right thing to do. And I believe in service work — the secret to living is giving!
Renew: What would you say to those beginning their recovery — those feeling overwhelmed, scared, and hopeless?
Griege:Life today is tough. Navigating each day is a challenge, even for those who are healthy. I believe those feelings are normal, especially in early recovery, and working the program, utilizing a sponsor, and having friends and a supportive family is enough. And yet sometimes all of those tools are not enough and professional care is needed.
I would tell people to take recovery one day at a time, break the process into little pieces, and find a person to trust — to share your feelings of fear and hopelessness. That will help with feeling overwhelmed. Don't be afraid to ask for help and seek the correct help. Find someone to help you advocate for yourself, and don't give up!
Renew: In your experience, what's waiting for addicts on the other side of recovery?
Griege:Initially, on that day back in 1993, I felt a peace like no other. Since then the words "peace," "contentment," and "love" are the first things that come to mind. It is an inside job that gives you the gift and ability to live and thrive in the outside world.
Renew: How do you define what it means to "thrive" in your recovery?
Griege:When I think of the word "thrive," I think of so much more than surviving. When I was given my cancer diagnosis, I was called a cancer survivor. I disagreed and asked to be called a cancer thriver.
Same goes for my recovery; I'm thriving in recovery. Both of these diseases have made me a better person. They have given me a choice to either give up, or fight and recover. I have chosen to fight. And I choose to make the best out of a tough situation. To me "thrive" means to prosper, flourish, progress, bloom, and shine.
It may sound funny, but I have a light inside of me — a light that might never had been turned on without addiction or cancer. I'm not grateful for my diseases, but I am grateful for all the blessings they have brought me.
For more of Teri's story, visit TeriGriege.com
More Voices of Recovery:
In Recovery, Choose Your Words Wisely
Fighting Addiction With Sage's Army