August 17, 2015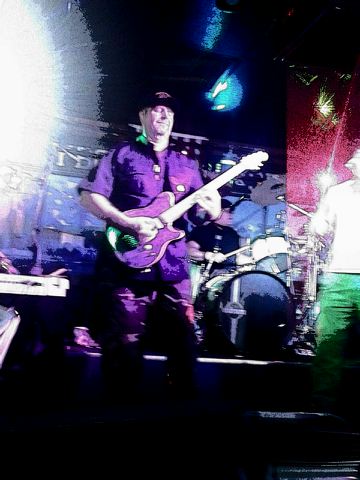 Shannon Thomas, aka SGT SHREDDER, was born in Honolulu, Hawaii just "up the hill" from Pearl Harbor. In fact, you can see Pearl Harbor from the hospital he was born in. The first time he visited the site in 2003 he felt a strong connection. That is when he started to realize that many of the places he feels comfortable are places where there has been war, or where veterans have served. Thomas saw his military connections over his lifetime and believes it was all destined to be part of his story.    
His spiral into his own personal hell
…
Thomas signed up with the US Army on August 17, 1983 and spent a total of six years serving in the military, including time in Desert Shield/Storm. He first left the Army in 1987, and began drinking heavily "because civilian life wasn't working for me".  
So in 1989 he re-upped with the Army for 2 more years yet found his drinking didn't decrease this time. He found himself still drinking to "cope" with his PTSD. He lost jobs, his drinking increased more and his depression intensified. He lost his health insurance and didn't have access to medical. He started trading off music gear for prescription pills which he'd mix with alcohol as a means to self-medicate his untreated PTSD.  
The more depressed Thomas got, the more he relied on chemicals to get through. "Being a veteran I'm a master of camouflage and I knew how to mask the pain." He stated "deep down inside my head, I saw nothing I wanted to live for and I hid that from a lot of people."
Thomas was on the verge of suicide, when he realized that if he did anything reckless, it would also affect his family and friends. So when he moved home to Florida, he knew it was time to get help. "It was through the treatment at the V.A. that I started to see my own issues," he said. "I was learning a lot about myself and what was making me tick. I had asked for help in the past but never understood how much I needed the help until then."
Guitars are an outlet for Shannon. He loves music. On December 26, 2007 he attended his first Trans-Siberian Orchestra concert.He remembers the very first note played at that concert being so powerful: "It was a WOW moment definitely," he said.
The music was not aggressive and there was a message of good, positive hope. He found himself feeling inspired throughout the concert.Chris Caffery, a member of orchestra shared how the band donates 
proceeds from each ticket sale 
to local causes. Thomas said this was particularly inspiring to him as his past experience with "rock n roll" was sex and drugs. To see that music could be used for something inspiring was the fuel he needed to gain his own sense of purpose. Thomas thought "If the orchestra can inspire others through music so can I".   
It's time to give back to my community 
…
Thomas enjoys putting guitars together and had worked in the past building guitars for Paul Reed Smith. He ordered some guitar parts online and with some parts he had around the house, he put a guitar together, and then decided he was going to give that guitar away. Thomas found a veteran in his late 20's being treated at the local VA hospital for a severe brain injury and who loved music. After giving the guitar to this young man and seeing his reaction, Thomas decided this was the project he was going to pursue — giving guitars to veterans.  
While this venture currently is "just Shannon Thomas making a difference," Thomas has a vision to seek not-for profit status and has chosen the name "SGT SHREDDER Rockin' to Heal Vets." This would allow him to pursue his vision to help veterans heal through the power of music.  
Shannon plans to continue giving away guitars and other musical instruments that he's refurbished or had donated. He also wants to host benefits where musicians come together to bring awareness to his message of hope for our veterans. He would like to build a team to bring the work of SGT SHREDDER across the United States because he believes "our veterans deserve to know they are cared about." 
Working on this project helps Thomas to keep his mind off negative things. He said "When I have flashbacks or have self-doubt or pity, I start focusing on the next project – the next veteran 
– 
 and that puts things in check for me. Today I don't have to drink to hide things now.Helping someone else is what brings me passion.  It keeps me alive to help other people."  
More Voices of Recovery: